Expert Foundation Pier Installation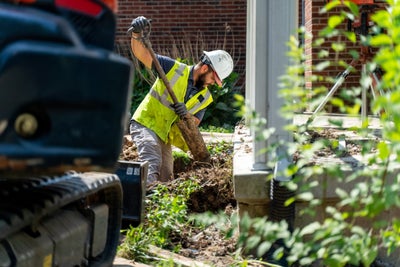 Your foundation keeps your home safe and stable against the world around you, but when it starts to settle unevenly, it can cause some noticeable issues and put the safety and value of your home at risk.
Signs such as uneven floors and stair-step wall cracks indicate foundation settlement issues that necessitate immediate intervention.
At Dry Pro Foundation & Crawlspace Specialists, we excel in installing foundation piers that permanently stabilize and potentially lift your settling foundation. With solutions tailored to your needs, we assure a secure and stable home.
Explore this page to understand the vital role of foundation piers and why Dry Pro is your trusted partner for this service.
What Are Foundation Piers? 
Foundation piers are structural components installed deep into the ground to reach firm soil or bedrock, thereby providing the necessary support your foundation demands.
By serving as stable columns, these piers allow the home's weight to be transferred to more firm ground, preventing future settlement and offering a chance to elevate the house back to its initial position.
Dry Pro ensures that your foundation piers become part of a broader strategy, which might encompass basement waterproofing, crawl space repair, and more, to upkeep your home's structural health. 
Signs Your Home Needs Foundation Piers 
Identifying the signs of a settling foundation early on is crucial. Watch out for these common symptoms in and around your home:
If you notice any of these signs, it's important to take them seriously. Reach out to Dry Pro for a free foundation inspection and personalized repair solutions. 
The Necessity of Foundation Piers 
Yes, implementing foundation piers is vital to achieve a stable foundation and avoid future damages. Addressing foundation issues promptly not only ensures safety but also saves on escalated costs in the future.
As your local experts, Dry Pro advises immediate action at the onset of foundation troubles. We assess the damage meticulously to recommend the best basement repair solutions for your home. 
Exploring the Different Types of Foundation Piers 
At Dry Pro, we employ various pier systems to suit North Carolina's diverse soil conditions. Here's a look at how we implement each type: 
This system anchors your home securely into the stable soil below using steel piers with helical plates. Functioning like a corkscrew, these piers burrow into stable soil, securing your home and guarding against future movement. Ideal for lighter structures that can't withstand push piers, helical piers offer versatility in a variety of situations.
Our installation process for helical piers is as follows:
Soil excavation to reveal the footing
Using hydraulic equipment to advance the piers into the soil
Continuous monitoring to achieve necessary depths and capacities
Securing a steel bracket to the footing
Benchmarking with small rivets in exterior walls
Backfilling the excavated soil
Similar to helical piers but differing in design, push piers leverage the home's weight to attain stability through elongated steel rods driven into the ground. These are perfect for homes with a heavy load that can be utilized to provide resistance.
Installation Process:
Soil excavation to expose the foundation footing
Attaching the bracket to the footing
Driving piers deep into the ground through the bracket
Continuous monitoring of depths and capacities
Placing benchmarks on exterior walls
Backfilling the removed soil
Specially devised for homes with slab foundations, these piers target support to crucial areas.
This installation process unfortunately may be more invasive, as slab piers need to be placed from inside the home.
Installation Process:
Removing flooring to access the desired area
Drilling a hole through the slab to reveal the footing
Setting up a bracket under the footing
Advancing the piers into the ground
Constant monitoring of depths and capacities
Bracket attachment to the slab
Concrete pouring to fill the hole and finalize with a smooth finish 
The Advantages of Installing Foundation Piers 
Opting for Dry Pro's foundation piers comes with the following benefits:
Long-lasting Stability
Preventing Further Settling
Avoidance of Additional Foundation Damage
Protection of Your Foundation
Potential for Foundation Lifting
Comprehensive Warranty
To maximize these benefits, choose Dry Pro's exclusive foundation pier solutions. Get in touch with us to understand how we can help.
Why Choose Dry Pro's Foundation Piers for Your Home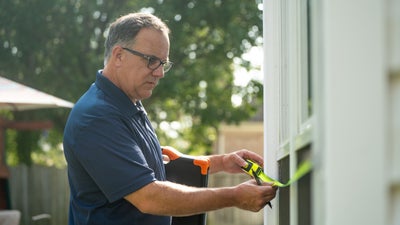 Our foundation pier systems stand out due to:
Superiority over standard piers and piles with innovative technology
Exclusive designs optimized for North Carolina soils
Enhanced durability and performance
Comprehensive warranty coverage
Inclusion in our annual maintenance service plan 
Reach Out to Dry Pro for Foundation Pier Solutions Today! 
Don't let foundation troubles linger. With nearly two decades of experience in North Carolina, Dry Pro is your trusted partner in ensuring a safe and stable home. Contact us today for a free inspection and estimate.
FAQs
Slab piers are generally advised for homes with a concrete slab foundation rather than those with a basement or crawl space. A detailed inspection by Dry Pro specialists can help determine the necessity of slab piers for your home. 
No, installing foundation piers is a complex process requiring specialized knowledge and tools. It is recommended to trust experts like Dry Pro to ensure the job is done correctly and safely. 
At Dry Pro, we assess the soil conditions thoroughly to choose the pier system that would offer the best support and stability, ensuring a tailored approach to every home's foundation repair needs. 
Publish Date:
Last Modified Date: