IntelliBrace™ Wall Repair System
If your basement walls have damage, like cracks or inward bowing, it can be dangerous for your family and your house. The best way to fix the damage and keep your home safe is to act early. The IntelliBrace™ Wall Repair System is a smart solution that can help.
Dry Pro Foundation & Crawlspace Specialists is the best company in Charlotte to help with foundation repair. They ensure your home stays strong and safe. 
Learn more about the IntelliBrace™ system and why it's important so you can make the right choice to protect your home.
What Is the IntelliBrace™ Wall Repair System?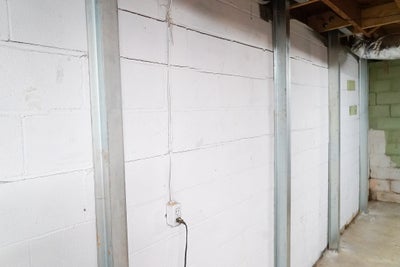 The IntelliBrace™ Wall Repair System is a patented innovation that stabilizes failing basement walls in your home.
Unlike standard I-beams, IntelliBrace™ beams anchor securely to the floor joists and the floor, ensuring maximum rigidity. These beams instantly secure the wall against further deterioration and offer the potential for incremental adjustments.
Over time, the IntelliBrace™ System can be tightened, guiding bowed walls back towards a straighter, more vertical position.
What IntelliBrace™ Fixes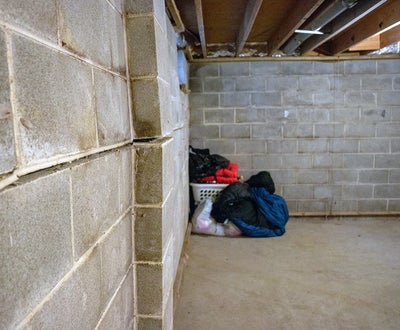 If your basement walls are displaying signs of structural distress or other issues, such as pooling water, it may be time to consider the IntelliBrace™ solution from Dry Pro. Key indicators to look out for include:
Is the IntelliBrace™ Wall Repair System Necessary?
Delaying the repair of structural issues in your basement worsens the damage, and increases the eventual repair costs. Implementing the IntelliBrace™ system at the first sign of trouble is recommended to ensure your home's safety. This innovative solution is a pivotal component of our comprehensive whole-home approach, which is tailored to protect every facet of your property.
We customize our solutions to meet the specific needs of your basement, so repairs may not require the IntelliBrace™ system. Our other products, such as wall anchors, channel anchors, and carbon fiber straps, also provide superb protection for homes.
Contact our team for a comprehensive, free inspection and no-obligation estimate to ensure your home is safeguarded according to its specific needs.
What Are the Benefits of the IntelliBrace™ Wall Repair System?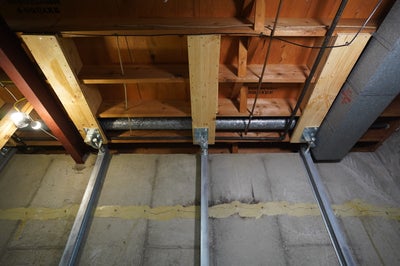 Easy Installation: The IntelliBrace™ system is installed within your basement, eliminating the need for exterior excavation. The beams require minimal space in your basement.
Stronger Support: The IntelliBrace™ beams offer better support than traditional I-beams, making your home's basement walls more secure.
Wall Straightening: In addition to providing support, the system also enables homeowners to straighten their walls over time, restoring their structural integrity.
Top Quality: Our product development is exclusive, ensuring that homeowners receive one of the best solutions available on the market.
How Dry Pro Installs the IntelliBrace™ Wall Repair System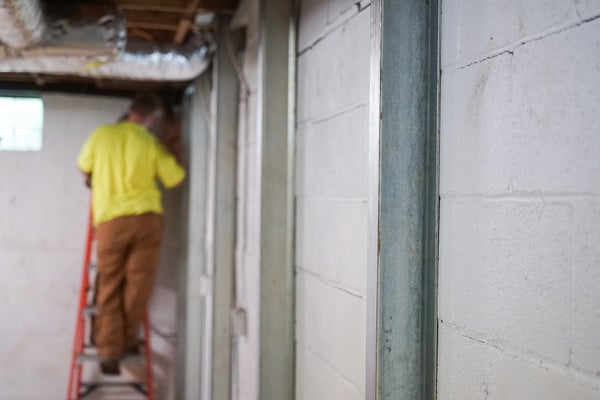 1. Thorough Inspection
As mentioned earlier, the best way to determine if the IntelliBrace™ system suits your home is through a comprehensive assessment by one of our experts. During the inspection, they will verify the need for this solution, take precise measurements, and mark where the beams should be installed.
2. Cut the Beams
Before installing the system, our crew cuts each beam to fit your basement's specific wall height. You can rest easy knowing that these revolutionary beams and other system components are made of strong, rust-resistant steel.
3. Install Floor Joist Components
The top of each brace is then fastened to a floor joist close to the top mudsill of the wall. A large-diameter bolt secured to the floor joist may be adjusted and tightened after installation. Your floor framework won't be harmed by an IntelliBrace™ installation. Before proposing this repair method, our experts will examine the strength of your floor joists to ensure proper functionality.
4. Position Each Beam
Each I-beam must be plumb or vertical for the IntelliBrace™ system to function correctly. To prepare for the following stage, the installation crew will adjust the position of each beam using a level.
5. Anchor Beams to the Floor
All beams are then secured to the concrete basement floor using a unique bolt-in-place bracket to complete the installation. The IntelliBrace™ System spans the entire height of the basement walls, in contrast to traditional wall repair techniques. As a result, the IntelliBrace™ technology may be used to fix walls that bow and buckle in the center, tilt inward from the top, or slide inward from the bottom.
6. Tighten Beams
The IntelliBrace™ system differs from other I-beam wall repair methods in its floor joist anchor with an adjustable bolt. This large-diameter bolt can be tightened over time to slowly adjust the walls' positions. It's best to leave this task to our team, who can perform scheduled service and maintenance yearly.
As you can see, the installation process can be complex. But you can trust Dry Pro's experts for safe, flawless, and efficient installation.
Why Dry Pro's IntelliBrace™ is the Best Choice for Wall Repair
Our services aim to provide you with the best possible basement repair solutions. We offer advanced engineering and design that ensures the safety and security of your home. Our team of experts uses only the most durable materials to guarantee that your walls remain straightened for years to come.
In addition, we understand that having construction work done in your home can be disruptive. That's why we've developed a system that minimizes disruption to your daily routine and yard. Our wall straightening process is designed to be gradual, ensuring that your walls are straightened without causing significant disruptions.
We also offer an annual maintenance service to ensure that your walls remain straightened and in top condition for many years to come. Our team of experts will visit your home and inspect your walls to ensure they are still in good condition. If any issues are found, we will address them immediately.
Finally, we make it affordable for you. With our flexible financing plans, getting comprehensive basement repairs doesn't have to break the bank.
Choose our services for the best wall straightening solutions that are safe, reliable, and long-lasting.
Contact Dry Pro for IntelliBrace™ Wall Repair Today!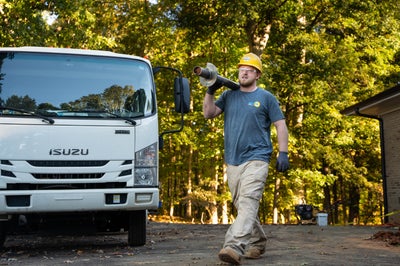 Postponing the repair of cracked and bowed basement walls may seem like a viable option. However, it exacerbates wall issues, jeopardizes your family's safety, and results in higher future repair costs. Let Dry Pro Foundation & Crawlspace Specialists take care of your home. Our IntelliBrace™ Wall Repair System is one of the best ways to fix basement wall problems. Contact us today to and schedule a free inspection and ensure your home is safe. 
FAQs
Periodic adjustments can be made based on the condition of the wall, typically on an annual basis. It is best to leave this task to the Dry Pro service team and our annual maintenance plan. 
The beams may protrude from the basement walls but with minimal disruption. Although noticeable, their presence ensures your home's safety and can be concealed by finishing your basement with paint, tile, or other cosmetic enhancements. 
The installation duration varies based on the condition of the wall, but most projects are completed within a day. For an accurate timeline, consult with our Dry Pro Foundation & Crawlspace Specialists team.