Channel Anchors
Channel anchors offer a long-term solution to bolster and rectify bowing or tilting foundation walls. At Dry Pro Foundation & Crawlspace Specialists, we have been utilizing top-grade channel anchor systems for years to avert the need for complete foundation replacement, granting homeowners reassurance and a fortified foundation. 
What Exactly Are Channel Anchors?
Channel anchors are specialized wall anchors engineered to provide stabilization to bowing or shearing basement walls. This system incorporates steel anchors driven into the stable soil exterior to the foundation. The anchors are connected to steel channels mounted on the interior wall of your basement by way of threaded anchor rods. These channels extend almost the entire height of your wall and are firmly anchored to the floor, thereby neutralizing inward wall movement caused by soil pressure. Over time, channel anchors can even offer the possibility to bring walls back to their original vertical alignment.
Signs That Your Home Needs Channel Anchors
If you notice the following signs of foundation issues, channel anchors could be the perfect solution for your home:
Walls shearing inward at the top or bottom
Horizontal or stair-step cracks in basement walls
Walls bowing outward in the middle
Doors or windows that are hard to open or close
Channel anchors target the underlying causes of these structural issues, offering a durable fix.
The Urgency of Installing Channel Anchors
Ignoring bowing or tilting walls can lead to escalating issues, including heightened soil pressure, water intrusion through cracks, and accelerated structural degradation. In extreme cases, failure to address these issues can even risk wall collapse. Channel anchors offer an enduring solution to these problems, especially when complemented by our state-of-the-art basement waterproofing systems. Act quickly to mitigate further damage and save on long-term repair costs.
Advantages of Dry Pro's Channel Anchors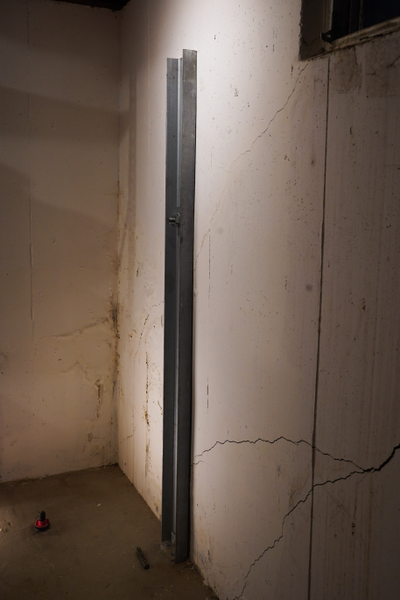 Our channel anchor systems offer numerous benefits:
Halting and preventing future wall movement
Potential for re-straightening tilted walls
Maintaining structural integrity without the need for foundation replacement
Defending against soil pressure and moisture-related issues
Minimal disruption to your property
By investing in a channel anchor system, you are not only safeguarding your home but also preserving its value.
Installation Procedure: A 7-Step Guide for Structurally Stable Walls
At Dry Pro Foundation & Crawlspace Specialists, our certified experts adhere to a meticulous 7-step procedure to ensure optimal installation of channel anchors. It's essential to clarify here that while the anchors can gradually improve the alignment of your walls, we don't promise perfectly level walls. However, we guarantee your walls will be stable, and the structural integrity of your home will be upheld. 
 
1. Initial Evaluation: Tailored Solutions for Your Structural Needs
Before we get started, our team conducts a thorough, in-depth inspection of your home's structural needs. This evaluation allows us to determine the most effective placement and type of channel anchors for your specific situation. Accurate initial evaluations are crucial for effective long-term stability.
2. Exterior Excavation: Preparing the Groundwork
Once we understand the scope of your needs, our skilled crew gets to work, excavating the soil around the perimeter of your home's foundation. We use specialized drilling equipment to ensure a smooth, precise excavation that prepares the area for the anchor installation.
3. Wall Drilling: Precision is Key
We drill small holes, usually between 1-2 inches in diameter, through your foundation walls at the points determined during the initial evaluation. These holes are essential for the placement of the steel rods that will connect to the earth anchors. Every drill hole is strategically positioned to ensure effective stabilization.
4. Rod and Anchor Connection: Establishing the Backbone
We then drive steel rods through the holes drilled into your foundation walls and securely connect them to earth anchors situated in stable soil away from your foundation. This forms a robust stabilization system that mitigates the risks of wall bowing or shearing.
5. Channel Bracket Installation: An Added Layer of Support
Once the steel rods are in place, we install steel channel brackets on the interior side of your foundation walls, directly over the exposed ends of the anchor rods. These brackets provide added support and are a crucial component in ensuring long-term wall stability.
6. Floor Bracket Securing: Maximal Structural Support
The channel anchors are then tightly secured to your basement floor, providing maximal structural support. This extra step helps distribute the stabilization forces more evenly, thus contributing to overall wall and foundation stability.
7. Gradual Wall Straightening: Progress, Not Perfection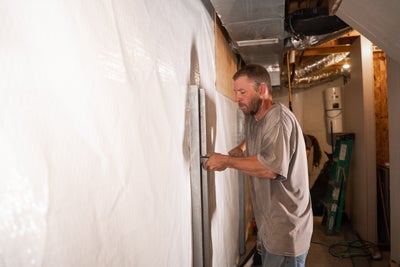 After the system is fully installed, the anchor rods can be incrementally tightened over time to gradually improve the alignment of your walls. While we don't promise that your walls will become perfectly level, this tightening process does significantly enhance their stability and can often improve their position. You can rest assured that your foundation will be more secure than before, averting more serious structural issues down the road.
Why Choose Dry Pro for Your Channel Anchor Needs 
Opt for Dry Pro Foundation & Crawlspace Specialists for the best in channel anchor technology: 
Custom-engineered channel anchors
No-obligation inspection and quotes
Industry-leading transferable lifetime warranty
Award-winning quality and customer service
Reach Out to Dry Pro Today!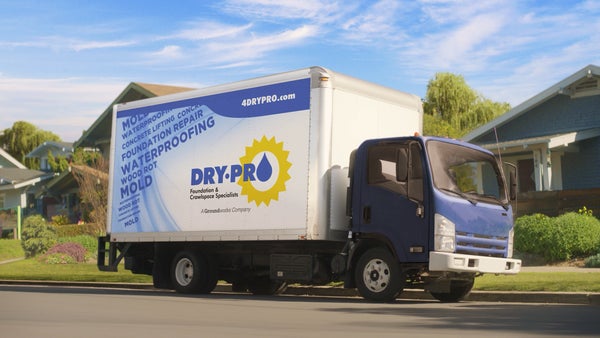 Don't let foundation issues worsen. Contact Dry Pro Foundation & Crawlspace Specialists to schedule your free inspection. Secure your home's foundation with our reliable channel anchor systems. 
Channel Anchors FAQs
Typically, the installation of channel anchors can be completed in just one day.
Yes, our professionals can tighten the anchor rods over time, allowing for the possibility of gradual wall realignment.
Generally, our channel anchor systems are designed to minimize disruption, often eliminating the need for major post-installation renovations.
Publish Date:
Last Modified Date: