Finding water in your basement can be frightening and frustrating as a homeowner. Not only does it jeopardize your stored belongings, but it can also pose safety risks, lead to unpleasant odors, and foster mold growth. That's why you should not just prioritize removing water but ensuring it doesn't return.
With so many solutions on the market, you may be wondering, "What's the best way to waterproof a basement?" or "Which waterproofing method is best for my home?" Here, we'll go over the best basement waterproofing methods from Dry Pro. We'll also highlight some methods to avoid ensuring a dry, safe, and comfortable basement.
Ineffective Waterproofing Approaches: What to Avoid
As you research your home's ideal basement waterproofing strategy, you'll likely encounter a range of suggestions. However, some methods may not be as effective as they seem.
"Waterproof" Paint or Sealant
Countless ads and online tutorials depict the ease of applying paint, sealants, or other purportedly "waterproof" substances to your basement to prevent leaks and water intrusion. However, these materials aren't all-purpose fixes. They fail to address the core issue and may not perform as expected when applied to damp or moisture-ridden areas. In such instances, they can bubble, peel off, or flake, providing only temporary relief. Persistent application of these substances can also be costly.
DIY Installations 
Similarly, other supposedly easy DIY solutions available online or at major retailers often fail to provide a lasting solution. They offer more of a short-term cosmetic patch-up, bypassing the root cause of basement water intrusion. Consistent reliance on these solutions can strain your budget and potentially spawn more complex, expensive issues down the line.
Exterior Drainage
During the construction of your basement and foundation, a tar layer is typically applied to the exterior walls, and a drainage pipe lined with filter fabric and stone is placed adjacent to the footing. These measures aim to prevent water infiltration, provided they remain intact. Over time, the tar can degrade, and the drainage pipe can become clogged or crushed under the weight of the surrounding soil. When these systems falter, water around the cove joint (the junction of the wall and floor in the basement) can seep in.
Interior Systems: Basement Waterproofing the Dry Pro Way
Now that you've seen what not to do, let's talk about a more effective method used by your local basement waterproofing specialists at Dry Pro. While exterior drainage contributes to the waterproofing process as long as it functions correctly, waterproofing your basement from the inside often proves more effective. Below, we discuss some systems we employ for durable basement waterproofing:
Interior Drainage
Our specifically-designed interior drainage system is a game changer for basements. Positioned just beneath the floor, above the footing, and outside of the "mud zone," it's designed to resist clogging. Weep holes, drilled along the lowermost row of the basement walls, allow accumulated water to drain, relieving excess hydrostatic pressure. This drainage system collects water from the walls, floor, and cove joint, routing it to a sump pump.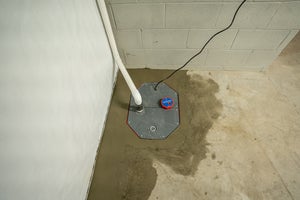 Sump Pump
Housed in a sump liner within the floor, the sump pump system gathers water from the interior drainage system. When the water reaches a specific level, a float switch is triggered, activating the system to pump the water out of the basement and away from the house through discharge pipes.
Wall Vapor Barrier
Installing a vapor barrier on basement walls serves a dual purpose. It not only enhances their appearance but also aids in keeping excess moisture and water at bay. Should any water leak through higher wall areas, it will flow behind the waterproof and mold-resistant vapor barrier and descend to the interior drainage system.
Dehumidifier
Basements, being partially or entirely below ground level, are naturally damp and humid. While this is a common scenario, it's not particularly beneficial for your home or family's health. Along with a vapor barrier to combat moisture intrusion, an energy-efficient, robust dehumidifier is vital to manage moisture and humidity levels. Our units clean and filter the air, minimize odors and the potential for mold growth, and self-drain for convenience.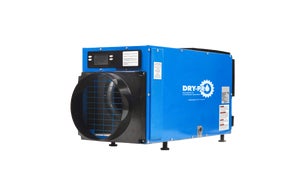 Additional Systems to Consider
Though exterior drainage can be beneficial, it also has its limitations. Consequently, it's essential to include other exterior elements in your water management strategy. Your gutters and downspouts serve as your initial shield against excess water near your basement and foundation. Maintaining them in a clean and undamaged condition, free from debris, is vital. As a rule of thumb, it's advisable to inspect and clean them at a minimum of twice a year, ideally during the spring and fall seasons.
Keep Your Basement Dry with Dry Pro
Rather than investing your time and money in temporary fixes, get the best solutions tailor-made for your Charlotte or Hickory area home's basement. If you suspect water is leaking into your basement, contact our expert team at Dry Pro. We provide completely free, no-obligation basement inspections and repair estimates. When one of our professionals visits your home, they will thoroughly evaluate your basement and home to determine the exact cause of your water management problems. You'll then receive an estimate detailing the recommended repair solutions, cost, and project timeline. You've got nothing to lose. Start protecting your home today!