Driveway Repair in North Carolina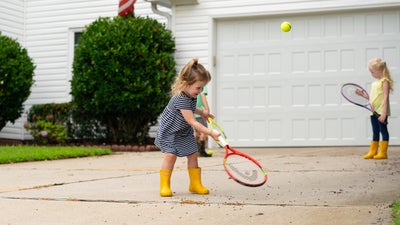 A deteriorating driveway not only detracts from your home's appearance but can also decrease property value and pose safety risks.
Thankfully, Dry Pro Foundation & Crawlspace Specialists, employing a state-of-the-art concrete lifting method, offers the perfect solution to restore both the look and safety of your driveway. Our technique uses a robust, lightweight foam injected under the driveway to effectively lift and stabilize the slabs.
For years, homeowners across North Carolina have entrusted us with their concrete lifting needs, recognizing our commitment to exceptional service and enduring solutions.
This article provides insights into our advanced concrete driveway repair service, highlighting its superiority for your home.
What Does Concrete Driveway Repair Entail? 
Restoring a concrete driveway involves addressing any damaged, cracked, or sunken sections to rejuvenate its stability and aesthetics.
While traditional methods such as mudjacking and repouring might be known to many, they are invasive, costly, short-lived, and often neglect the underlying issues.
Dry Pro Foundation & Crawlspace Specialists' unique approach to concrete lifting with foam injections is a game-changer. We target problems arising from unstable subsoil and excessive moisture, ensuring a solution that stands the test of time. By enhancing your driveway's condition, you amplify your home's visual appeal, functionality, and potential resale value.
Indicators Your Concrete Driveway Requires Repair 
Addressing driveway issues at the onset prevents escalation. Watch out for:
Visible Cracks: Obvious cracks or wide fissures exceeding ¼".
Uneven Surfaces: Depressions or raised sections of the driveway.
Water Collection: Notable water pooling in certain driveway sections.
Eroding Edges: The sides and edges are breaking away.
Additional Damage: Surface problems like pitting, flaking, or discoloration.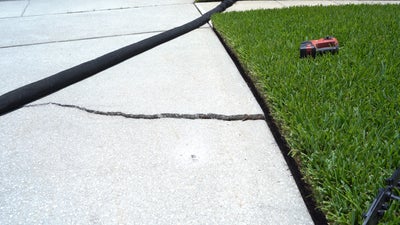 Prompt detection can avert safety hazards, escalating damage, and expensive fixes. Reach out to Dry Pro Foundation & Crawlspace Specialists for dependable driveway repair options.
Is Repairing a Concrete Driveway Essential? 
Indeed. Factors such as unstable soil and repeated freeze-thaw cycles can lead to concrete driveway damage over time.
Procrastinating on repairs allows under-driveway moisture to worsen the erosion and sinking. Addressing these issues promptly offers an affordable, effective solution, while also allowing our professionals to assess if foundation issues contribute to the driveway's deterioration.
Advantages of Concrete Driveway Repair 
Opting for concrete driveway repair provides numerous benefits:
Avoiding Further Deterioration: Timely intervention halts ongoing damage.
Safety Boost: An even driveway surface negates tripping threats.
Aesthetic Enhancement: A refined driveway uplifts your home's overall look.
Tailored Solutions: Our experts devise repairs to suit your specific needs, tackling root causes for lasting results.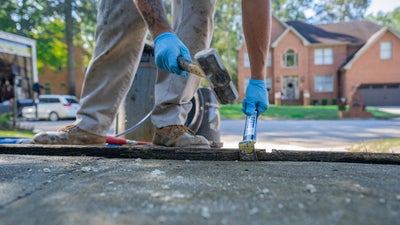 It's imperative to employ top-tier products and expertise, ensuring optimal benefits.
Our Methodology for Concrete Driveway Repair 
Dry Pro Foundation & Crawlspace Specialists' concrete lifting procedure encompasses:
Evaluating the driveway for damage and its root cause.
Drilling small holes at strategic points.
Inserting injection ports.
Preparing a closed-cell polymer foam.
Injecting this foam beneath the slabs.
Allowing the foam to expand, hardening in about 15 minutes.
Stabilizing the lifted slab and underlying soil.
Finalizing with sealants to avert future issues.
Opting for Dry Pro Foundation & Crawlspace Specialists ensures meticulous execution for lasting repairs.
Why Our Repair Solution Outshines the Rest 
Our concrete lifting system boasts several unmatched advantages, including:
Precision: Meticulous stabilization and lifting.
Minimal Disruption: No need for extensive digging or heavy machinery.
Lightweight: Our foam outperforms traditional materials in weight and efficiency.
Rapid Results: Our method cures in just 15 minutes, ensuring limited inconvenience.
Connect with Dry Pro Foundation & Crawlspace Specialists Today! 
Don't compromise with a compromised driveway. Restore its pristine state with our unparalleled concrete lifting services. We craft solutions suited to your property, leveraging advanced techniques for durable, efficient results.
Reach out for a complimentary inspection and quote. Our reputation for stellar service and impeccable results across North Carolina speaks volumes. Let us assist you in enhancing your residence. 
FAQs
Factors like changing soil conditions, moisture ingress, and extreme weather can result in sinking and cracking. Persistent weight, like parked vehicles, can also be a contributing factor. Dry Pro Foundation & Crawlspace Specialists can pinpoint and address these issues. 
Our cutting-edge method hardens within 15 minutes, allowing almost immediate post-repair use. This is in stark contrast to other methods, which might necessitate days of curing.
Costs hinge on the damage scale, repair extent, and chosen repair type. While traditional methods can be pricier, our concrete lifting solution offers cost-effectiveness coupled with longevity. We extend transparent pricing, free evaluations, and varied payment options to suit your financial constraints. 
Publish Date:
Last Modified Date: