Addressing Concrete Pitting, Flaking, & Staining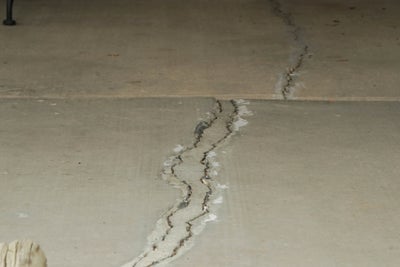 Homeowners across North Carolina value the lasting beauty and durability of their concrete surfaces. Be it pool decks, sidewalks, driveways, or walkways, smooth concrete surfaces can complement landscaping and provide safe areas to gather.
However, issues like concrete pitting, flaking, and staining not only look bad but also hint at deeper structural issues. When left unchecked, these minor concerns can escalate into major challenges.
Dry Pro Foundation & Crawl Space Specialists recognize these obstacles and provide dependable solutions that uphold your home's aesthetic and value. Our groundbreaking SettleStop™ PolyRenewal™ concrete lifting method targets the foundational causes, ensuring they don't reappear.
This article uncovers the intricacies of concrete pitting, flaking, and staining, emphasizing the importance of professional interventions for your home's longevity and safety.
Understanding Concrete Pitting, Flaking, and Staining
Although pitting, flaking, and staining each have their distinct features, they originate from similar root problems.
Concrete Pitting
Manifesting as small, irregular craters on concrete surfaces, concrete pitting points towards an inherent structural weakness often resulting from production inconsistencies.
Concrete Flaking
Flaking can be distinguished from pitting by its flaky surface. It arises mainly due to environmental factors such as moisture and climatic variations.
Concrete Staining
Staining is a discoloration caused by foreign agents like oil or dirt, which can weaken the concrete over time.
Despite their differences, these signs all underscore a compromised concrete state, with potential escalation if not addressed. Moreover, pitting, flaking, and staining often co-exist with other issues like cracks or sinking, affecting various surfaces including:
Driveways
Sidewalks
Pool decks
Porches
Patios
Steps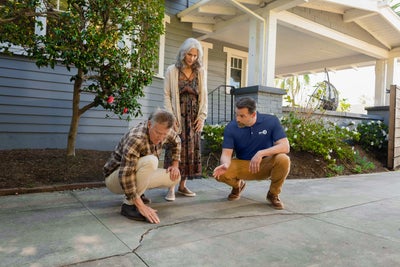 Ignoring these signs can lead to further degradation. Reach out to Dry Pro for a precise evaluation at the earliest sign of these issues.
The Origins of Concrete Pitting, Flaking, and Staining
These concerns arise from vulnerabilities within the concrete structure. However, each has its unique trigger.
Sources of Concrete Pitting
Initial mixing errors or improper curing can usher in pitting. Poorly mixed concrete can trap air, creating weak areas that later form pits.
Sources of Concrete Flaking
With age and continuous exposure to elements, concrete can begin to flake. Water intrusion, especially from adjacent drain systems, can exacerbate this process.
Sources of Concrete Staining
Stains result when substances like oil or mud penetrate the concrete or the nearby soil, affecting the concrete's chemistry and potentially causing it to sink.
Recognizing these issues and addressing them promptly is key to lasting repairs. Dry Pro's specialized approach caters to each damage's unique origin.
Resolving Concrete Pitting, Flaking, and Staining
Certainly, issues like pitting, flaking, and staining can be rectified. But a comprehensive approach is paramount for enduring results.
It's not solely about surface fixes. In some cases, simple patches or coating the concrete will offer only short-lived repair. A holistic method that addresses the core issue and averts future episodes is imperative when dealing with soil concerns or water intrusion.
For durable concrete rejuvenation, we recommend products that reinforce and support the concrete internally.
Dry Pro's Solution for Concrete Concerns
At Dry Pro, we don't just resort to traditional methods like patching or pouring. Our superior SettleStop™ PolyRenewal™ injections fortify the soil beneath while raising the troubled concrete sections.
Our procedure involves:
A comprehensive, free inspection.
Drilling small holes in the concrete.
Placing injection ports.
Preparing our signature closed-cell foam.
Injecting the foam below the concrete.
Allowing the foam to solidify (within 15 minutes).
Assuring the concrete's elevation and stability.
Removing the injection ports.
Refining and sealing the drilled areas.
Regular checks and maintenance for lasting results.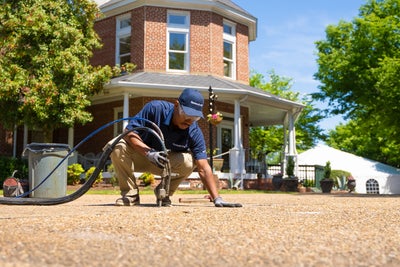 Our proprietary SettleStop™ PolyRenewal™ system is crafted to deliver unmatched support and durability to your concrete.
The Importance of Addressing Concrete Issues Promptly
Acting swiftly to tackle these concerns is crucial to take advantage of the following benefits:
Prevention: Early intervention halts further deterioration.
Home Value: Well-maintained concrete augments property value.
Safety: Uneven surfaces from flaking or pitting can be trip hazards.
Aesthetics: Immaculate concrete elevates your home's visual appeal.
Rely on Dry Pro for unparalleled service. Our custom solutions, unavailable in generic products, guarantee exceptional outcomes.
Connect with Dry Pro for Top-Notch Concrete Repair
Don't let damaged concrete undermine your property's beauty and safety. Instead of settling for superficial fixes, trust Dry Pro's comprehensive concrete repair solutions. Schedule a free, no-obligation assessment today, and let us rejuvenate your property's charm.
We pride ourselves on a track record of excellence and long-lasting results. North Carolina homeowners have trusted Dry Pro with their concrete repairs for years. We invite you to witness our exceptional service.
FAQs
Annual checks are ideal. However, if you observe sudden changes, seek professional advice immediately. Collaborate with Dry Pro for concrete repairs to gain access to our yearly service programs. Our experts routinely inspect to assure ongoing protection.
While pitting can emerge years post-installation, once visible, it escalates quickly. Swift intervention is essential for correct identification and remediation. 
Vehicle oil leaks can seep into concrete, causing dark stains. Proper cleaning and sealing can avert this. Extreme stains or chemical exposure can weaken the concrete, causing cracks or sinking. Dry Pro's specialized concrete lifting system offers a robust defense against these challenges. 
Publish Date:
Last Modified Date:
Explore more problem signs