Cracked Sidewalks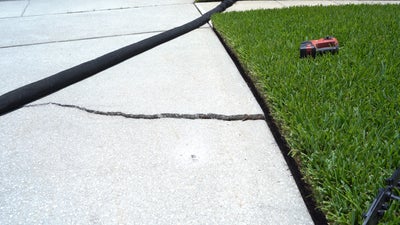 Even, uniform concrete pathways are vital for your home's safety and aesthetics. However, broken and sinking concrete sidewalk slabs introduce numerous risks.
These cracks might stem from various reasons, such as shifting weather patterns or inadequate installation. A deteriorated sidewalk diminishes your home's exterior charm and poses threats to those walking by, people on bikes, strollers, and wheelchairs.
Dry Pro Foundation & Crawlspace Specialists recognizes the unwelcome look and considerable dangers of fractured concrete sidewalks. Hence, we utilize our cutting-edge SettleStop™ PolyRenewal™ concrete elevating technique to treat cracked and dipped segments of concrete sidewalks, providing a secure and visually appealing pathway around your residence.
This page will help you comprehend the reasons behind sidewalk fracturing and realize the importance of tackling the problem immediately with our proficient concrete lifting remedies.
What Is a Cracked Sidewalk? 
A cracked sidewalk manifests as evident breaks or separations in the concrete walkway often next to a residential or business property.
These splits can differ in dimensions and depth, influencing the structural soundness of the sidewalk. Such cracks are not merely surface imperfections. Fractured sidewalks look unattractive, signal deeper issues, and represent significant tripping threats, emphasizing the need for swift action and mending.
In addition to these, cracked sidewalks may present alongside other damages, including:
Concrete pitting, flaking, and staining
Cracked driveway
Sinking concrete steps
Cracked concrete patio
Sinking porch
Cracked pool deck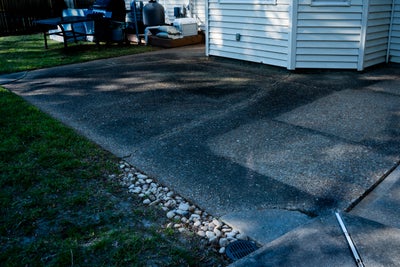 If untreated, sidewalk cracks can spread, leading to added structural concerns and potential legal challenges for property holders. Ignored cracks might exacerbate as the concrete pieces steadily lower, becoming jagged and protruding, leading to tripping dangers and reducing your property's visual allure.
It's imperative to engage specialists like Dry Pro Foundation & Crawlspace Specialists to guarantee your property remains secure.
What Causes Sidewalk Cracks? 
Various causes can lead to sidewalk cracks, such as:
Underlying Soil: Settling or erosion of the soil underneath the concrete is a major contributing factor. When the soil—the supporting foundation for the concrete—sinks or washes away, it undermines the sidewalk above.
Intrusive Tree Roots: Tree roots can exert upward pressure on concrete. As they displace earth and enlarge, they stress the concrete, resulting in fractures and elevation.
Weather Conditions: Extreme weather conditions, such as excessive rain or flooding (pictured here), can wash away the underlying soil. The freeze-thaw cycle causes water seeping into tiny cracks to expand when frozen, then contract, and cause more damage when it melts.
Improper Installation: Cracks can form if the concrete isn't given adequate time to cure, if there is insufficient reinforcement, or if the base layer is unstable.
It's vital to recognize the root cause of the fracture to deliver an enduring solution effectively, thereby averting recurring damage.
Can One Repair a Cracked Sidewalk? 
Absolutely, fractured sidewalks can be remedied, but it's essential to have an all-encompassing solution to address the concern effectively.
Prompt attention is essential as worsening cracks limit repair options.
It's crucial to realize that DIY solutions might not be enough. Just sealing cracks or mudjacking only hides the symptoms. The underlying issues leading to the cracks must still be addressed.
For trustworthy, lasting sidewalk mending, consult the concrete repair specialists at Dry Pro Foundation & Crawlspace Specialists.
We provide holistic home solutions that transcend mere superficial fixes. Our exclusive PolyRenewal™ method can elevate, stabilize, and refurbish cracked concrete sidewalk slabs.
How to Fix a Cracked Sidewalk 
Dry Pro Foundation & Crawlspace Specialists employs a sophisticated technique called PolyRenewal™ to rectify uneven and cracked sidewalks. Here's the approach: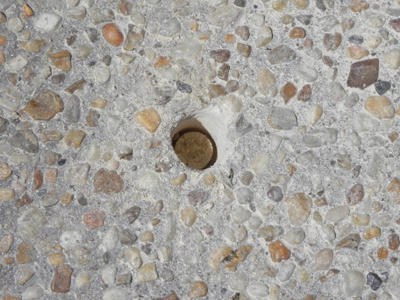 Perform a thorough evaluation, pinpointing the factors causing the cracks and determining the ideal solutions like PolyRenewal™.
Drill small, penny-sized openings into the affected areas.
Insert injection ports into the holes.
Blend together our proprietary two-part polymer foam.
Pump the foam underneath the sunken slabs through the ports.
The foam expands rapidly, filling voids, and hardens in 15 minutes.
The sidewalk slab is lifted and the soil underneath is stabilized.
Remove the injection ports and patch the drilled holes.
Seal all cracks and joints to prevent future water damage.
Check periodically and maintain the sidewalk to maximize durability.
Our tailored polyurethane foam solution, designed for precise and rapid sidewalk lifting, is superior to conventional mudjacking, less intrusive than full slab replacement, and offers lasting stability.
Why Fix Sidewalk Cracks Promptly 
Addressing uneven sidewalks promptly is vital to provide the following benefits:
Prevent Accidents: It's dangerous to leave raised sections that could cause someone to trip and fall.
Avoid Legal Liability: Cracking, dangerous sidewalks can result in liability issues.
Long-term Cost Efficiency: Issues causing the cracks can worsen over time, leading to expensive repairs, such as full sidewalk replacement, if left unaddressed. Early professional repairs prevent costly future damages.
Maintain Property Value: Cracked sidewalks drag down curb appeal, making it difficult to sell your home. Homebuyers want problem-free walkways.
For a comprehensive solution to cracked sidewalks, opt for Dry Pro Foundation & Crawlspace Specialists, whose advanced, professional techniques offer benefits that surpass alternatives.
Contact Dry Pro Foundation & Crawlspace Specialists for Reliable Concrete Lifting Solutions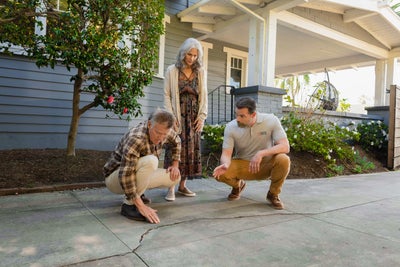 Don't allow your sidewalks to deteriorate. Eliminate the dangers and unsightly aspects of fractured sidewalks with Dry Pro Foundation & Crawlspace Specialists. Our revolutionary methods promise lasting aesthetics and functionality for your sidewalks.
Our seasoned crew has been assisting homeowners across the Charlotte, North Carolina metroplex in rejuvenating their property's concrete surfaces. As the area's premier concrete lifting service, residents trust our exceptional client service and pioneering repairs. Call us today for a complimentary, no-commitment evaluation and let us reinstate your property's safety and charm.
FAQs
Certainly. Even minor cracks can escalate if overlooked, possibly indicating profound structural challenges. These cracks can widen, spread, destabilize the slab, and cause irregularities. Properly discerning the origin and implementing the most effective remedy is crucial. Bypass DIY fixes and reach out to Dry Pro Foundation & Crawlspace Specialists for a free assessment and guidance on enduring solutions. 
Absolutely, SettleStop™ PolyRenewal™ is environmentally benign, causing zero disruptions to the neighboring environment. This material remains stable beneath the concrete and does not contaminate the soil. Depend on Dry Pro Foundation & Crawlspace Specialists' unique PolyRenewal™ polyurethane foam for a reliable and effective concrete lifting solution. Contact us now for more details and to schedule a complimentary inspection. 
The cost of sidewalk repair varies based on the severity of the damage, the size of the project, and the specific solutions required. Factors like the scale of cracking or the need for specialized techniques can influence the final price. Dry Pro Foundation & Crawlspace Specialists is committed to transparent pricing and to helping homeowners gauge potential expenses, we offer complimentary evaluations, providing clear estimates after assessing the situation. 
Publish Date:
Last Modified Date:
Explore more problem signs