Cracked Driveway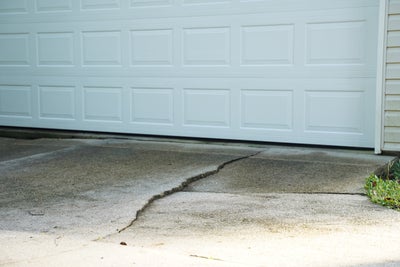 Although common, a cracked driveway is a problem homeowners should not ignore. This eyesore obviously impacts your home's aesthetic appeal, but, more importantly, it is a hazard that impacts your property and your family's safety.
Anyone, especially those with limited mobility, can trip over cracked and uneven driveway slabs. These fissures could also harm your vehicle and your foundation.
Dry Pro is your trusted partner in addressing this pervasive issue, providing state-of-the-art, reliable concrete lifting solutions that are effective and long-lasting. Our commitment to excellence offers homeowners peace of mind by restoring safety and beauty to their properties.
This page educates you on what causes cracked driveways and how our concrete lifting solutions can expertly fix your driveway.
What Is a Cracked Driveway?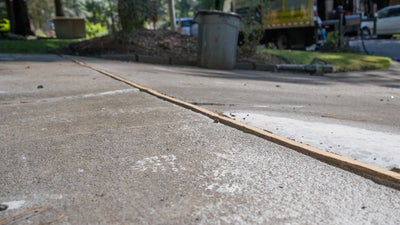 A cracked driveway is a concrete surface that has developed fractures, lines, or breaks over time. These imperfections range from minor, barely visible hairline cracks to more severe, large, and noticeable splits.
A driveway may have a single crack or multiple cracks spread across the concrete. Cracked driveways are not only unsightly, they can present serious safety risks, potentially leading to trips, falls, and injuries.
If your driveway is cracking, your property may also have other damage, including:
Cracked concrete patio
Sinking porch
Sinking concrete slab
Concrete driveways are susceptible to cracking due to various factors, often necessitating professional inspection and repair services—like those offered by Dry Pro—to mitigate any safety hazards and prevent further damage. Contact us immediately for a complementary inspection when you notice any of these problems.
What Causes Driveway Cracks?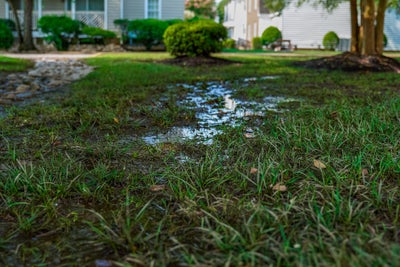 There are several potential causes for cracked concrete driveways, including:
Soil Problems: Settling or eroding soil underneath the driveway causes uneven stress and cracking.
Trees: Tree roots growing under or near the driveway exert upward pressure and create cracks.
Precipitation: Excessive rain or flooding that erodes and undermines soil.
Other Weather Issues: Freeze-thaw cycles allow water to seep into cracks and expand when frozen. Concrete also undergoes normal expansion and contraction over time as temperatures fluctuate.
Construction Issues: Poor concrete pouring or curing during original construction makes concrete driveways susceptible to damage.
Heavy Vehicles: From compact cars to full-size pickup trucks, vehicles are heavy items weighing thousands of pounds. This strains concrete driveways and the underlying soil over time, leading to cracks and sunken slabs.
These same factors impacting concrete driveways can also affect your home's foundation, making it imperative to address these issues promptly with a specialist like Dry Pro, who can offer the most effective solutions.
Can You Fix a Cracked Driveway?
Certainly, damaged concrete driveways can indeed be mended and brought back to their original condition. However, it's crucial to recognize that as cracks grow and spread, they can reduce the viable repair choices when they become too severe. That's why it's essential to get your driveway checked and fixed by professionals as soon as any issues are observed.
Merely sealing the cracks with caulk or concrete filler, using conventional mudjacking methods, or pouring fresh concrete aren't comprehensive fixes; they're only temporary remedies.
For an effective repair of cracks and uneven patches, underlying issues such as shifting soil must be tackled. The optimal approach is concrete lifting, a method that elevates sunken portions and stabilizes the entire driveway. Dry Pro specializes in these precise solutions, ensuring each repair is of the highest standard.
How to Fix a Cracked Driveway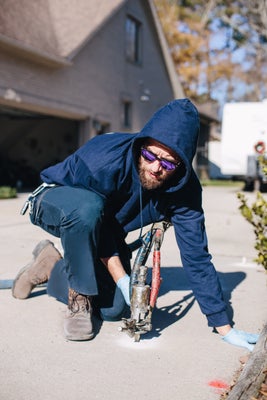 Dry Pro's certified concrete driveway repair process involves several key steps:
Complete an initial inspection, identify the cause, and determine appropriate repair solutions like SettleStop™ PolyRenewal™.
Drill small, penny-sized holes into affected driveway areas.
Place injection ports in the holes.
Mix together a two-part, closed-cell polymer foam.
Inject foam under driveway slabs.
The foam expands, filling any voids, and cures within 15 minutes.
The slab lifts and the soil is stabilized.
Remove injection ports and fill and smooth the drilled holes.
Apply sealant to cracks and joints to prevent further damage.
Regularly maintain and monitor your concrete driveway.
At Dry Pro, we utilize our line of advanced products, including SettleStop™ PolyRenewal™, personalized to address user-specific issues effectively, outperforming solutions from competitors. This proprietary polyurethane foam solution is designed to lift concrete quickly and precisely. SettleStop™ PolyRenewal™ repairs last longer than mudjacking and cause less disruption than slab replacement.
Why Address Driveway Cracks Now
Fixing cracked concrete driveways quickly is crucial for a number of reasons:
Avoiding Further Damage: Addressing cracks early can prevent more severe structural issues.
Increased Safety: Unaddressed cracks can pose serious safety risks, leading to accidents and injuries. Larger cracks are safety hazards for walking or driving. Narrow cracks can catch heels or bicycle tires.
Protected Home Value: Maintaining a well-kept driveway enhances curb appeal and property value.
Reasonable Repair Costs: The longer you wait, the more work and expense significant repairs entail.
Don't settle for quick fixes. Our SettleStop™ PolyRenewal™ system can restore your driveway to like-new condition. Our concrete lifting solutions are designed to properly stabilize cracking and uneven concrete. Contact Dry Pro today to schedule your free inspection.
Contact Dry Pro for Reliable Concrete Lifting Solutions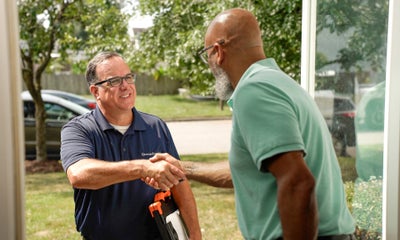 Don't let a cracked driveway diminish the safety and appeal of your home. If your concrete driveway is cracked, sunken, or uneven, the concrete specialists at Dry Pro can help. Contact us today to schedule a free inspection and estimate.
We understand how frustrating cracked driveways can be. That's why we proudly offer expert, reliable concrete lifting solutions that stand the test of time. Our SettleStop™ PolyRenewal™ technology can quickly and precisely lift and stabilize sunken concrete slabs the right way the first time.
FAQs
A well-maintained concrete driveway can serve homeowners for 20 years or even longer. However, it's not uncommon for driveways to show signs of wear or minor damages over the years. Dry Pro Foundation & Crawlspace Specialists specializes in addressing these issues, ensuring that not only are damages repaired, but the overall lifespan of your driveway is extended. Curious about the condition of your driveway? Contact us for a free assessment. 
Absolutely! While refreshing the surface can give an old driveway a new lease on life, it's vital to address underlying issues like cracks to ensure a long-lasting finish. Dry Pro Foundation & Crawlspace Specialists uses robust polyurethane injections to provide a comprehensive solution that not only refreshes but also reinforces your driveway. Considering an update? Reach out to us for a complimentary evaluation. 
At Dry Pro Foundation & Crawlspace Specialists, we understand that every driveway is unique. Our approach is tailored to fit the specific needs of your driveway. Some of our lifting methods can elevate sunken sections in a mere 15 minutes. Generally, the entire repair and lifting process can be completed within a single day. If you're considering concrete lifting, or simply have questions, reach out to FSS for a complimentary inspection and a detailed project timeline. 
Publish Date:
Last Modified Date:
Explore more problem signs