Sticking Doors and Windows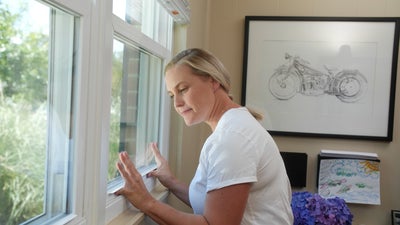 If you find yourself excusing your sticking front door to guests and struggling to open windows on a warm day, it may be time to think about the underlying causes. At Dry Pro Foundation & Crawlspace Specialists, we understand the challenges that come with sticking doors and windows. It is not just about the annoyance they cause but the underlying issues that they signify. Let's look deeper into why addressing these issues promptly should be a priority.
What Are Sticking Doors and Windows?
While doorways and window frames may look like your easy-to-execute-square, plenty of measurements go into ensuring doors close easily and remain flush with the frame. When foundations shift and settle over time, they often lead to sagging floors, which cause misalignments in doorways and window frames. Hence, your door gets stuck or requires a stiff push to close.
What Causes Sticking Doors and Windows?
Stuck doors and windows usually result from foundation issues, but the actual cause of foundation problems can vary. We'll cover the most common causes we see in North Carolina.
Expansive Soils: Soils that are rich in clay can absorb more water than regular topsoil. When we receive heavy rain, the soil can expand, exerting hydrostatic pressure on the foundation of your home.
Settling: Some settling is normal over the years and doesn't mean your foundation is failing. However, when the foundation settles quickly or unevenly, it can result in issues. Hydrostatic pressure can lead to cracking on its own, but when the soil dries, it often contracts, compromising the stability of the soil and causing the foundation to settle deeper in some areas than others.
Unstable Crawl Space Supports: When crawl spaces become compromised with water damage or wood rot, the joists can bow, causing sagging floors and causing issues in doorways and windows.
These foundation issues also cause common issues like drywall cracks, brick cracks, and floor gaps. If you notice any of these problems along with your stuck doors and windows, it's a good sign you need to call an expert.
Can You Fix Sticking Doors and Windows?
Absolutely! Dry Pro Foundation & Crawlspace Specialists are fully equipped to get to the root of the issue behind sticking doors and windows. The solution will vary depending on the cause of foundation issues, but rest assured our team is available to provide a personalized plan and no-obligation quote following a free inspection.
Dry Pro Foundation & Crawlspace Specialists Method for Fixing Sticking Doors and Windows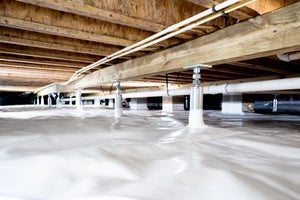 At Dry Pro, our experts undertake a detailed process to not only fix the issue at hand but also fortify your home against future problems:
Securing the Foundations:
Leveraging the strength of steel foundation piers, we stabilize, and when possible, elevate your home's foundation back to its initial position, restoring its original strength and integrity.
Rejuvenating Crawl Spaces:
Our team stands ready to revitalize your home's foundation by utilizing crawl space jacks to mend sinking floors and straighten uneven walls, thereby enhancing the foundation's steadfastness.
Improving Drainage Systems:
We employ advanced solutions such as crawl space encapsulation and basement waterproofing to keep moisture at bay, effectively preventing wood decay and fostering a healthier living environment.
Strengthening Basement Walls:
Homes with basements benefit from our reinforcement strategies involving steel I-beams, wall anchors, and carbon fiber straps, a thorough approach proven to remedy wall-bowing dilemmas efficiently.
Our commitment goes beyond just fixing the present issue; we aim to bolster your home's foundation to shield against potential troubles down the line, assuring a safer and more stable abode for years to come.
Why Address Sticking Doors and Windows Issues Now?
Addressing sticking doors and windows sooner rather than later can prevent a myriad of problems, including:
Safety Concerns
Secured Lock Systems: Sticking doors and windows can compromise the effectiveness of your lock systems, making your home vulnerable to break-ins. Ensuring they function smoothly keeps your home secure.
Child Safety: Children are more prone to accidents with doors and windows that don't function correctly, presenting a risk that is avoidable with timely intervention.
Health Implications
Air Quality: Cracks and gaps can allow pollutants and allergens to enter your home, degrading the air quality and potentially harming your health.
Property Value
First Impressions: When it comes to property value, first impressions matter. Ensure that every door and window open smoothly to create a positive first impression on potential buyers.
Protecting Your Investment: Addressing foundational issues now can mean a higher ROI in the future, making it a wise financial decision.
Energy Efficiency
Sustainability: Enhance your home's sustainability by addressing gaps and cracks that cause energy leaks, contributing to a greener environment.
Saving on Future Repairs: Taking care of small problems now can prevent them from escalating into more significant issues, helping you save on future repair costs.
Choose Dry Pro to Remedy Your Sticking Doors and Windows
By choosing Dry Pro Foundation & Crawlspace Specialists, you are opting for a hassle-free, secure, and enhanced living experience, safeguarding your home from the adverse effects of sticking doors and windows. Contact us today for a free inspection and no-obligation quote.
FAQs
Dry Pro employs a meticulous approach where we install foundation piers to stabilize and potentially lift the foundation back to its original position, ensuring a stronger and more stable base for your home.
Revamping crawl spaces involves the utilization of crawl space jacks to repair sinking floors and level walls, thereby reinforcing the foundation's stability. We also offer crawl space encapsulation and waterproofing to guard against future issues. Our process promotes a stronger and safer foundation for your home.
By improving the drainage system through measures like crawl space encapsulation and basement waterproofing, we ensure moisture is kept at bay. This approach not only helps in solving sticking issues but also prevents wood rot and mold growth, promoting a healthier home environment. 
Publish Date:
Last Modified Date:
Explore more problem signs