Basement Wall Cracks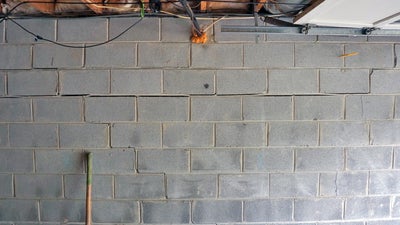 Spotting troubling cracks on your basement walls? While they might seem like a minor inconvenience at first, these cracks can escalate into more severe problems.
Ignoring cracks can not only jeopardize your basement's structural soundness but also provide an entry point for moisture. Dry Pro Foundation and Crawlspace Specialists are here to guide you through the process of managing these issues. 
We're equipped to diagnose basement wall cracks, find the root cause, and design a customized repair plan leaving you with long-lasting solutions. In this guide, you'll learn how these cracks develop and what you need to do next to safeguard your home.
What Is a Basement Wall Crack?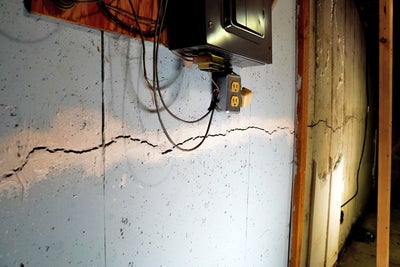 Cracks in basement walls indicate a breach, rupture, or break in the foundational structure. These cracks manifest when the foundation gives in to external pressures, overpowering the tensile strength of concrete.
While not every crack spells an immediate disaster for homeowners, addressing the issues promptly is vital to prevent more issues like flooding or structural degradation.
Each crack is unique. By assessing the crack's location, nature, pattern, and size, we can gauge its implications and create a custom-tailored solution. Dry Pro's thorough inspection ensures we design the most long-lasting repair strategy. 
What Causes Basement Wall Cracks?
Many factors can contribute to the creation and expansion of basement wall cracks. During our inspection, we shed light on these root causes, empowering homeowners to make informed designs on how to tackle them.
Soil Movement and Settlement
Extreme movement in the soil beneath your basement, whether due to erosion or drought, can destabilize its support. The result? The basement buckles under its weight, giving rise to cracks.
Poorly compacted backfill can also lead to uneven ground settlement, intensifying the pressure points. These cracks typically stretch vertically, tracking the wall's mortar lines.
Hydrostatic Pressure
Excessive water accumulation underground after a heavy rain or snow exerts tremendous lateral force. This pressure can overwhelm the concrete wall's tensile strength, leading to horizontal cracking. When this force converges with basement walls, it causes them to deform, paving the way for cracks to form near the floor.
This hydrostatic pressure eventually fractures the concrete, producing visible, horizontal cracking on the walls.
Freeze-Thaw Episodes
Recurrent freeze-thaw sequences during seasons exert expansive and contractive stress on the foundation. This cyclical pattern induces cracks, often initiating at the external wall corners.
Improper Curing
Flaws during the concrete curing phase, such as suboptimal mixing or premature freezing, often culminate in a weaker foundation.
Poor curing also heightens concrete's potential to be damaged by freeze-thaw. Unfortunately, this is out of your control—but it can be fixed.
Invasive Tree Roots
Expanding tree roots exert pressure on foundation walls, exploiting their weak points, particularly near the perimeter.
Identifying the precise triggers behind basement wall cracks is pivotal for selecting the apt repair methodology. Dry Pro offers a range of solutions to counter these challenges head-on! 
Can Cracked Basement Walls Be Fixed?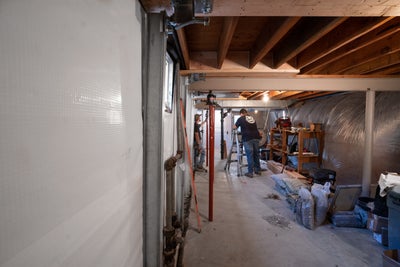 Absolutely! Advanced innovations in foundation repair have made it possible to fortify walls and mend cracks without complete wall replacements.
At Dry Pro, our wall reinforcement solutions will guard against recurring cracks. Our warranty-backed methods ensure your basement stays intact, dry, and strong for years to come.  
How to Fix Cracked Basement Walls: Our Repair Process
Dry Pro's tried-and-true method is trusted across North Carolina thanks to our unwavering commitment to quality and efficiency. 
1. Thorough Inspection
We meticulously document every crack, noting its size, location, and possible patterns. This comprehensive evaluation helps us identify the root causes, whether it's soil movement, hydrostatic force, or other factors.
2. Install Reinforcement Tools
We implement the best reinforcement methods to fortify weak areas and avert future cracks. Available options are:
3. Waterproofing and Drainage Integration
To defend against moisture, we install an internal drainage system, dehumidifiers, and durable vapor barriers. Additionally, our sump pumps effectively redirect water away from the foundation to help prevent future water intrusion.
The Danger of Putting Off Basement Repair
Postponing repairs can transform minor cracks into full-blown foundational breakdowns. Here's why prompt intervention is key:
Cracks exacerbate rapidly due to continuous external pressures
Widening cracks usher in water, causing erosion and potential mold infestations
Overlooking cracks can induce further ground settlement and structural vulnerabilities
As cracks expand, repair costs surge, accompanied by potential water damage outlays
Significant cracks might necessitate monitoring sensors to preempt sudden exacerbations
Don't jeopardize your home's structural integrity. Dry Pro Foundation and Crawlspace Specialists deliver prompt, potent solutions, fortifying your foundation from the ground up. 
Reach Out to Dry Pro for Crack Repairs in Charlotte, NC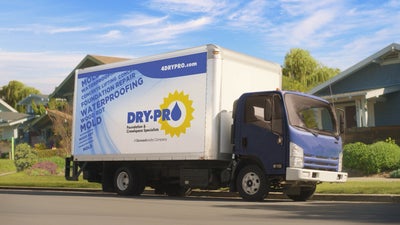 Basement wall cracks in your home need immediate attention to prevent structural risks and potential water damage. With Dry Pro Foundation and Crawlspace Specialists, you're choosing expertise, durability, and peace of mind. 
Schedule a free basement inspection with us today! Opt for enduring, holistic solutions with Dry Pro, Charlotte's trusted foundation repair specialists. 
Wall Crack FAQs
Not all basement cracks are an immediate threat. By examining factors such as location, nature, pattern, and size of the crack, you can get an idea of its implications. However, it's always best to consult with specialists like DryPro to ensure accurate diagnosis and timely repairs. 
DryPro's unique approach begins with a thorough inspection to identify root causes. We then employ advanced reinforcement tools, including carbon fiber straps, channel anchors, and more. Additionally, our comprehensive waterproofing and drainage integration ensure long-term protection against moisture and potential water damage.
Age doesn't determine our ability to fix a basement. DryPro offers solutions tailored for both older and newer constructions. Our innovative techniques and materials ensure that any basement, regardless of when it was constructed, can be repaired to maintain its integrity and safeguard your home. 
Publish Date:
Last Modified Date:
Explore more problem signs