AquaStop™ Basement Sump Pumps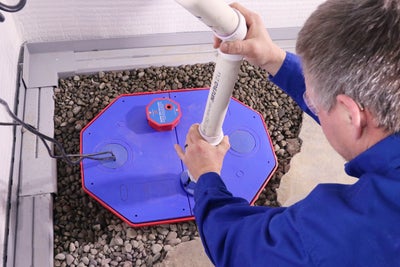 Encountering water in your basement can be distressing — it damages possessions, undermines structural integrity, and can diminish the value of your North Carolina home. Dry Pro Foundation & Crawl Space Specialists bring forward AquaStop™ Sump Pumps as a formidable solution, ensuring your basement stays dry and sound.
With years of serving North Carolina homeowners, we've established a reputation for unmatched customer service and superior basement waterproofing solutions.
Explore the significance of a long-lasting sump pump system and discover how AquaStop™ can permanently resolve your wet basement concerns.
What is an AquaStop™ Sump Pump System? 
Designed to sit at the basement's lowest point, the AquaStop™ Basement Sump Pump System collects and expels water away from your home's foundation. It's an essential component of basement waterproofing, preventing flooding and structural damage.
AquaStop™ isn't just a standalone solution — it's a comprehensive approach to cultivating a healthier, safer living environment. Featuring a water alarm, sump liner, airtight lid, and durable cast iron pumps, AquaStop™ promises reliability and enduring performance.
Recognizing the Need for a Basement Sump Pump 
Understanding when your basement requires a sump pump is crucial. Indicators include:
When these signs emerge, seeking professional help from Dry Pro Foundation & Crawl Space Specialists is imperative to prevent escalating damage and secure your home's safety.
The Critical Role of a Sump Pump 
A sump pump is indispensable — it's the linchpin of your basement waterproofing strategy. Absence of a sump pump leads to moisture accumulation, resulting in mold growth and structural impairments.
Proactive measures are key to averting substantial future issues. AquaStop™ Sump Pumps are versatile, integrating smoothly into a comprehensive home solution, enhancing the overall wellbeing of your living space.
Tailoring AquaStop™ Sump Pumps to Your Needs 
Every home has unique requirements. We offer a range of AquaStop™ Sump Pump systems, each tailored to meet specific needs. From the single pump system to the triple pump system with battery backup, Dry Pro Foundation & Crawl Space Specialists will guide you to the most suitable solution for your home.
Advantages of Choosing AquaStop™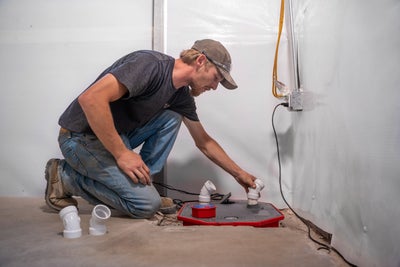 Opting for AquaStop™ brings forth a plethora of benefits:
Guaranteed Basement Dryness
Comprehensive Integration with Other Solutions
Dependable Pumping Capacity
Prolonged Protection
Dry Pro Foundation & Crawl Space Specialists is your go-to source for customized, effective basement waterproofing. Reach out to schedule your free inspection.
AquaStop™ Installation Process 
Our experts at Dry Pro Foundation & Crawl Space Specialists follow a meticulous installation process to ensure the optimal functioning of your AquaStop™ sump pump system. From determining the lowest point of the basement to testing the pumping system and restoring the concrete floor, we ensure every step is executed with precision.
Why AquaStop™ is the Optimal Choice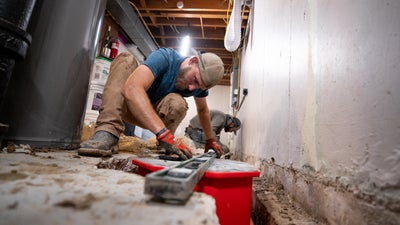 AquaStop™ stands out with its high-quality components, compatibility, multiple protection levels, battery backup options, annual maintenance plans, and comprehensive warranty. Secure your basement with Dry Pro Foundation & Crawl Space Specialists for unparalleled protection.
Reach Out to Dry Pro Foundation & Crawl Space Specialists Today!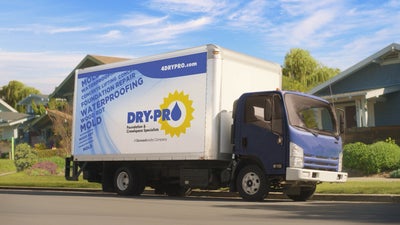 Don't let basement leaks dampen your spirits. With Dry Pro Foundation & Crawl Space Specialists, secure your home with reliable AquaStop™ sump pumps and other waterproofing solutions. Contact us to book your free inspection and estimate.
Understanding the climatic nuances of North Carolina, we ensure that our AquaStop™ sump pumps are equipped to keep your home dry and safe for the long haul.
FAQs
Absolutely, the AquaStop™ Sump Pump System is specifically designed to handle high volumes of water, making it an ideal solution for regions experiencing heavy rainfall and extreme weather conditions. Dry Pro Foundation & Crawl Space Specialists have carefully selected this system for its robustness and reliability in ensuring that your basement remains dry and protected, even in the most challenging weather scenarios. 
Yes, Dry Pro Foundation & Crawl Space Specialists offers a comprehensive transferrable warranty on the AquaStop™ Sump Pump System. Our warranty covers both the product and the installation, giving homeowners peace of mind knowing that they are protected against any unforeseen issues. For detailed warranty information and any specific queries, feel free to contact our knowledgeable team. 
If you observe any irregularities in the operation of your AquaStop™ Sump Pump System, we recommend contacting Dry Pro Foundation & Crawl Space Specialists immediately. Attempting to troubleshoot or repair the system on your own can lead to further complications. Our team of trained professionals will promptly address your concerns, conduct a thorough inspection, and provide the necessary solutions to ensure the continued effectiveness of your sump pump system. 
Publish Date:
Last Modified Date: