Carbon Fiber Basement Wall Reinforcement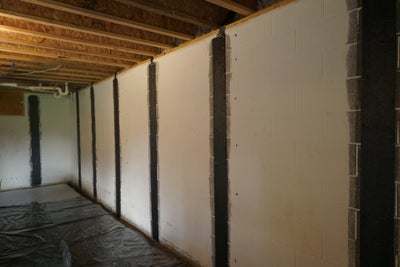 Finding cracked or bowing walls in your basement can be nerve-wracking. Foundation issues, even at their earliest stages, can pose a real risk to the structural stability and value of your home. However, these issues can be remedied even in severe cases. At Dry Pro Foundation, we've perfected a solution for these common problems through our tried-and-true method of Carbon Fiber wall reinforcement.
With more than two decades of providing unparalleled basement repair services in Charlotte, NC, and the surrounding area, Dry Pro Foundation & Crawlspace Specialists offers a cutting-edge, economical option for long-term basement wall security.
Continue reading to discover how carbon fiber straps can strengthen your home's foundation and how our expert team can assist you in fixing worrisome changes in basement walls.
What Is Carbon Fiber Basement Wall Reinforcement?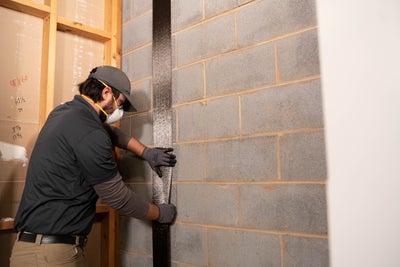 Carbon Fiber Basement Wall Reinforcement is a revolutionary solution tailored to confront the root causes of cracking and bowing basement walls before they require complex intervention.
This remedy utilizes low-profile straps that form a secure bond with your walls. After installation, these straps offer a strength ten times greater than steel. They are ideal for walls with minor to moderate damage, especially those that have moved inward less than two inches.
Unlike more intrusive solutions such as steel beams, carbon fiber straps are easy to conceal and space-efficient.
Signs You Need Carbon Fiber Basement Wall Reinforcement 
If you identify any of these symptoms, Carbon Fiber wall reinforcement could be an essential solution:
Horizontal, vertical, or stair-step wall cracks: Cracks appearing on basement walls are indicative of structural stress. These cracks may take different forms: running side to side (horizontal), up and down (vertical), or resembling a set of stairs (stair-step). These cracks signify that the walls are experiencing pressure from various directions, potentially hinting at instability within the foundation.
Bowing or tilting walls: When basement walls curve or lean inward, this is referred to as bowing. This phenomenon is often caused by external soil pressure or hydrostatic pressure from water accumulation. Bowing walls are a clear sign of compromised structural integrity and can result in further leaning or even collapsing if left unaddressed.
Wall shearing: Wall shearing occurs when different sections of a wall shift or slide in opposite directions. This can manifest as horizontal displacement between segments of the wall. It is a visual indication of significant stress on the walls, likely due to uneven ground pressure or inadequate wall reinforcement.
Inward movement of less than two inches: Even a relatively minor inward shift of basement walls—less than two inches—shouldn't be disregarded. This gradual movement might appear insignificant, but it often points to underlying issues that, if unresolved, could worsen over time. Such movement could stem from insufficient foundational support or external pressure from the surrounding soil.
Alternatives like wall beams, wall anchors, or channel anchors might be necessary for more severe wall damage. Contact Dry Pro Foundation for a complimentary inspection to decide the most suitable strategy.
Is Carbon Fiber Basement Wall Reinforcement Necessary? 
Carbon fiber wall reinforcement is crucial when it comes to maintaining the stability and strength of your basement walls. If you notice signs like cracks, bowing walls, shearing, or even slight inward movement, it is a clear indication that your walls are under stress. Carbon fiber reinforcement provides the extra strength needed to prevent these issues from getting worse and helps ensure the safety of your home's foundation. Acting quickly can save you from substantial repair costs in the future.
Carbon Fiber reinforcement doesn't just halt further damage but aligns seamlessly with Dry Pro Foundation's comprehensive approach to home repair, ensuring a lasting, structurally sound home.
Benefits of Carbon Fiber Basement Wall Reinforcement 
Enhanced Structural Integrity: Carbon Fiber technology fortifies your walls, providing unmatched strength and resistance.
Low-Profile Appearance: The straps are discreet, leaving minimal visual impact, perfect for covering with paint or drywall.
Longevity: Carbon Fiber is corrosion-resistant, offering a more durable alternative to traditional methods.
How Dry Pro Installs Carbon Fiber Basement Wall Reinforcement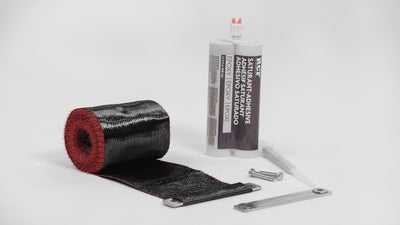 Our meticulous installation process involves:
Wall condition assessment
Marking strap installation points
Wall surface preparation
Sill plate bracket installation
High-strength epoxy application
Carbon Fiber strap affixing
Threading through the sill plate bracket
Final epoxy coat application
Ensuring a secure bond
Choose Dry Pro for precise installation and enduring protection.
Why Choose Dry Pro's Carbon Fiber Basement Wall Reinforcement? 
Unmatched strength
Minimal visual disturbance
Effective prevention against cracking and bowing
Integration with other Dry Pro solutions
Comprehensive maintenance plans
Contact Dry Pro Foundation for Carbon Fiber Wall Reinforcement Today! 
While a cracking or bowing wall is alarming, early detection and the right professional repair can avert more serious issues. Trust Dry Pro Foundation for durable solutions that stand the test of time. Contact us today to schedule a free, no-obligation inspection to secure the long-term safety and value of your home.