BasementGutter™ Interior Drainage System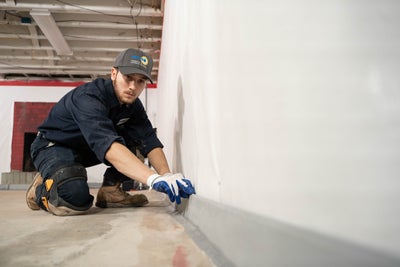 A damp, leaking basement can cause numerous headaches for homeowners. It not only hampers the living environment but also jeopardizes the structural foundation of your residence. Dry Pro Foundation & Crawlspace Specialists introduce the AquaStop BasementGutter™ Interior Drainage System as your definitive solution to these challenges. Serving communities throughout North Carolina, we offer tailor-made basement waterproofing solutions designed for your unique needs, ensuring a dry and secure basement.
Understanding Dry Pro's AquaStop BasementGutter™ Interior Drainage System 
At Dry Pro, we recognize the distress caused by ineffective drainage systems and the resulting damp basements. AquaStop BasementGutter™ Interior Drainage, our premium offering, is strategically installed along your basement's internal perimeter. It proficiently channels water from the walls or where the wall meets the floor to your sump pump, ensuring swift removal.
This system's installation is meticulously performed above the footing, preventing clogs from mud and ensuring lasting efficiency. Integrating AquaStop BasementGutter™ as a vital component of a whole home waterproofing approach grants you peace of mind and a healthier living environment.
Indicators That You Require Interior Drainage 
Identifying these signs promptly can help in averting extensive damage and save on repair costs:
If these symptoms manifest, it's imperative to reach out to a reputable professional like Dry Pro Foundation & Crawlspace Specialists.
What Are the Benefits of the AquaStop BasementGutter™ Interior Drainage System? 
Prioritizing the installation of an efficient interior drainage system is crucial to avoid escalating problems and soaring repair costs. DIY solutions are typically temporary fixes; hence, it's advisable to rely on seasoned professionals like the team at Dry Pro.
Incorporating the AquaStop BasementGutter™ system into our all-encompassing waterproofing strategy ensures the longevity and safety of your property.
Benefits of Choosing Dry Pro's AquaStop BasementGutter™ Interior Drainage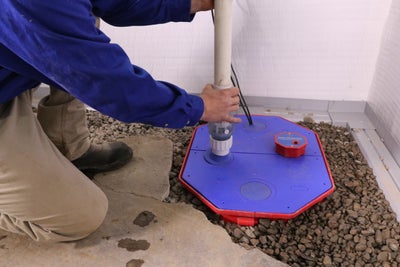 Prevents Water Damage: Swift water collection and redirection safeguard your possessions and inhibit mold growth.
Harmonious Integration: The system is compatible with our diverse basement waterproofing and foundation repair solutions.
Foundation Longevity: AquaStop BasementGutter™ defends your foundation against deterioration.
Peace of Mind: Trust in our reliable drainage system to keep your basement dry.
Dry Pro's Installation Process for AquaStop BasementGutter™ Interior Drainage 
Following a thorough inspection, our certified installation comprises:
Removing a section of the concrete around the internal perimeter.
Drilling weep holes in the lower blocks for water flow.
Placing AquaStop BasementGutter™ and backfilling with gravel.
Setting a vapor barrier atop.
Connecting the system to the sump pump.
Refilling the trench with concrete.
We also incorporate a wall vapor barrier, a dehumidifier, and an anti-freeze exterior sump pump discharge line for comprehensive protection.
Why Dry Pro Offers the Premier Choice for Interior Drainage 
Dry Pro's AquaStop BasementGutter™ system surpasses alternatives due to its anti-clog design, versatility with other waterproofing elements, comprehensive warranty, and availability of annual maintenance plans.
Reach Out to Dry Pro for Unparalleled Interior Drainage Solutions!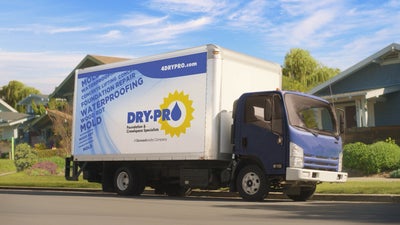 Don't let a damp basement compromise your home's value and safety. Entrust your home to Dry Pro for dependable solutions. Contact us today for a complimentary, obligation-free inspection.
For years, homeowners across North Carolina have entrusted us with the care and protection of their homes. We're eager to extend our expertise to you!
FAQs
We strongly advise against DIY installations as improper installation can lead to system failure and further complications. Relying on Dry Pro's experienced professionals ensures accurate installation, optimal performance, and preservation of the system's warranty. 
The installation timeline varies depending on factors such as the size of the basement and the extent of the issue. However, our team at Dry Pro Foundation & Crawlspace Specialists is committed to working efficiently to minimize disruption, aiming for timely completion while maintaining high-quality standards. 
As a part of our annual maintenance service plan, we ensure the AquaStop BasementGutter™ system operates efficiently throughout the year. The plan includes routine checks and necessary adjustments, providing homeowners with peace of mind and extending the lifespan of the system. 
Publish Date:
Last Modified Date: