Ever wonder why there are more crawl spaces than basements in North Carolina?
Our experts at Dry Pro estimate 75 percent of homes across North Carolina have a crawl space, 15 percent have basements and 10 percent have slab foundations.
In this article, we'll discuss why crawl spaces are so popular in the Tar Heel state and why they may be the best choice.
---
Crawl Spaces vs. Basements in North Carolina
Before we can debate the pros and cons of crawl spaces and basements, let's consider the key differences between the two.
What Is a Crawl Space?
A crawl space is an open space beneath your home that lifts the home off the ground. It provides a space for plumbing and ductwork that is easily accessed as compared to a slab foundation, where service work is difficult.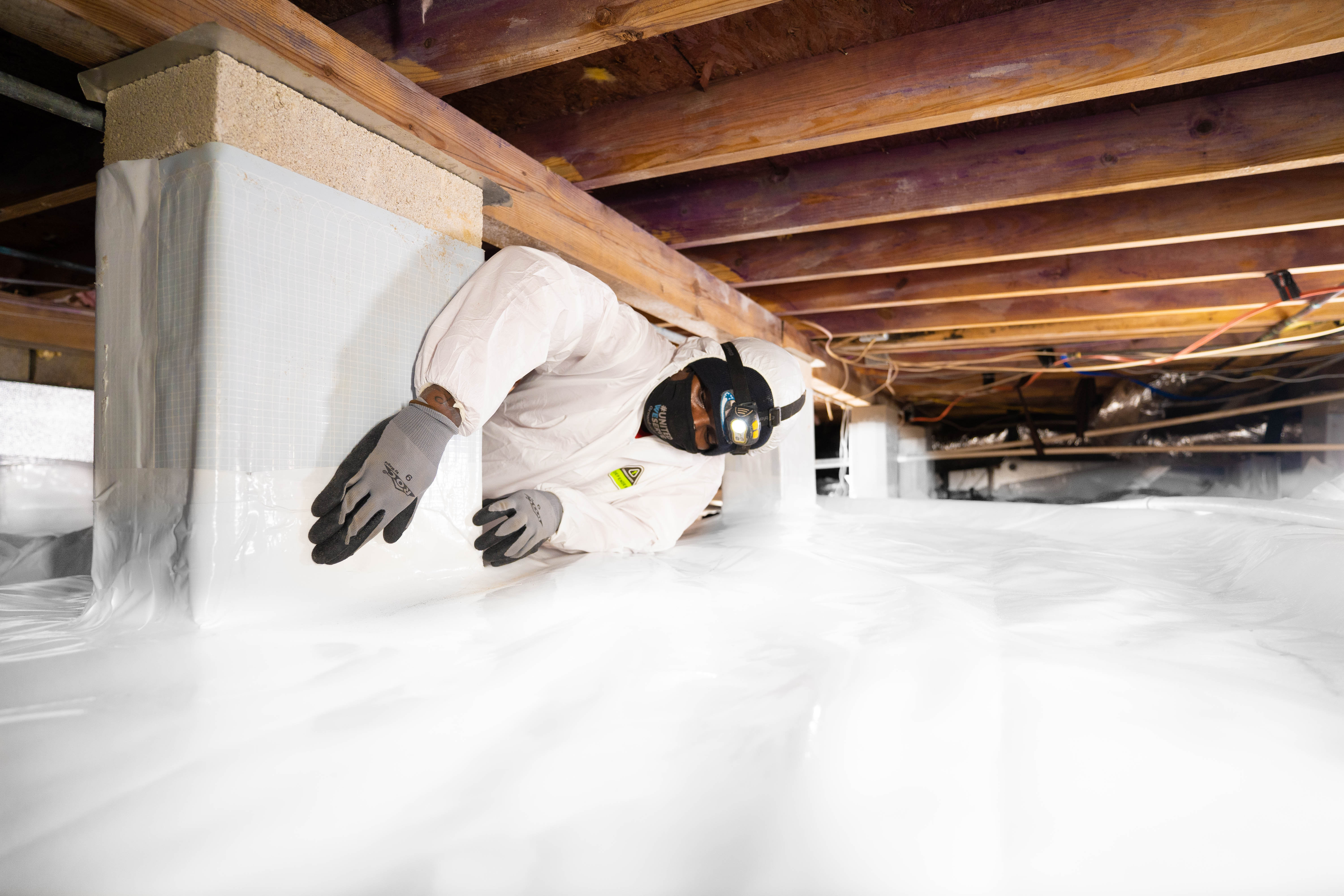 The height of crawl spaces varies across North Carolina.
In the Charlotte area, for example, crawl spaces are typically 24 to 30 inches tall, while on the east side of the state, near the Atlantic Ocean, crawl spaces are much shallower because of the sandy soil.
In mountainous areas, crawl spaces are as tall as 14 feet because they are built into the side of a mountain.
Regardless of height, North Carolina crawl spaces must be careful regarding termites that can damage the wood used to support your home.
Overall, crawl spaces are just that, areas you have to crawl into and not for everyday use. If properly encapsulated, storage can be an option.
What Is a Basement?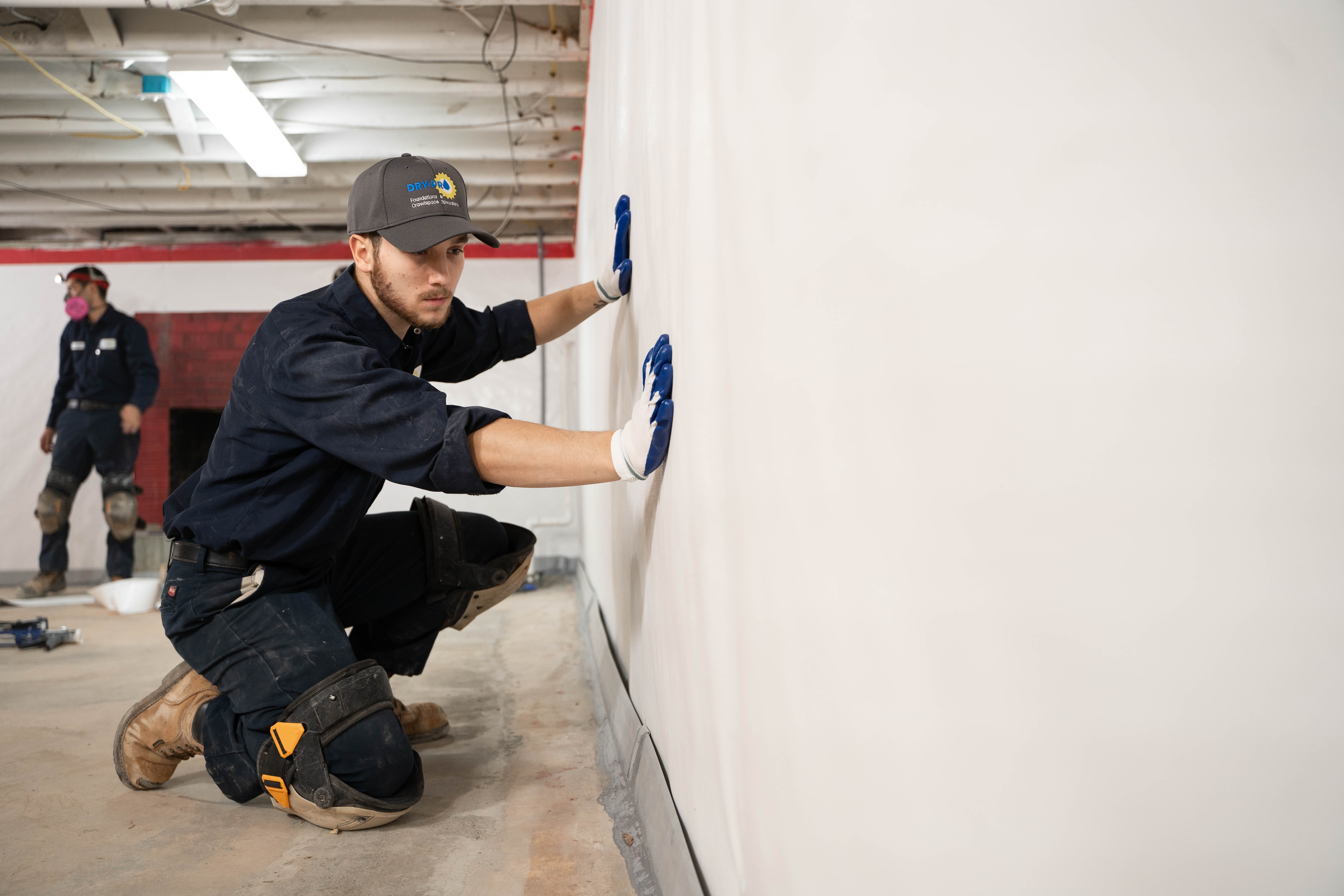 Basements can be used for many functions, from a finished basement used for additional living space, bedrooms, or home office to an unfinished basement typically used for storage. A basement gives homeowners the option to expand beyond their square footage if needed.
The soil beneath and surrounding your home may also play a role in determining if a basement is the right choice for the area.
A basement starts as a hole dug into the ground. Typically, the hole is around 8 feet deep.
A cement slab is poured as the floor and either poured cement or cinder blocks are used to form the outer walls of the basement. Your home's plumbing and HVAC equipment are easy to service inside the basement, however, it is prone to water, termite damage, and high humidity levels.
FAQs
Yes, while most homes in North Carolina are built on a crawl space, areas near mountains are far more likely to have basements.
These basements are usually "walkout basements" as they are built into the side of the hill. A "walkout basement" is just as it sounds, a basement you can walk out of.
Basements are more commonly found in the Midwest. This is because when your home is first built, builders have to dig deep below the earth to place the footing below the freeze line so they already have dug a basement.
Still, basements across the country are in decline. In 2000, 40% of homes were built on a basement, in 2013, the number dropped to 32%.
One region in particular, the area west of the Mississippi River and east of the Rocky Mountains is where basements are most prevalent. In this area, the decline is not being seen and roughly 40% of homes are still being built with basements.
States like Nebraska, Kansas, Oklahoma, and Iowa also utilize basements as a shelter in the event of a tornado.
Why North Carolina Has More Crawl Spaces
So, why does North Carolina have more crawl spaces than basements? The list below is just a few reasons.
Below, you'll learn more about what these factors mean for North Carolina's crawl-space-to-basement ratio.
---
Cost
On average, crawl space foundations cost about $7 per square foot to build, while a basement can cost up to $25 per square foot.
This cost difference means a lot to homeowners.
Shallow Frost Line
When a home is built, in order to meet code, the foundation must begin below the frost line. The frost line is the depth at which moisture will freeze in the ground. The frost line matters because everything above the line expands and contracts causing movement to everything above it.
While the frost line varies greatly by region, in North Carolina it is rather shallow. This means digging deep is unnecessary resulting in contractors choosing to save cost by only digging slightly past the frost line to create a crawl space.
Clay Soil
The state soil of North Carolina is Cecil soil. This soil covers over 1.6 million acres across the state.
Cecil soil is made up of yellowish-red sandy clay loam topsoil. This soil is difficult for contractors to dig, so, they do so as little as possible. By creating a cost structure that disincentives digging, basements have become so costly they are rarely built in North Carolina.
Proximity to Water
Since part of the state runs along the Atlantic Ocean, basements are nearly nonexistent in that area.
The consistently wet soil and high water table make any basements extremely susceptible to flooding and in severe cases can lead to major structural issues making the home uninhabitable.
---
Are Crawl Spaces Better Than Basements Overall?
You may be asking yourself are crawl spaces a better choice than basements overall? The answer isn't that easy. In areas like Hickory and Concord, NC, a crawl space may make more sense overall to save on cost and the consistent water struggles you would face, but crawl spaces aren't without their woes.
The hot, humid weather, open vents, and clay soil that is constantly expanding and contracting based on moisture levels means taking precautions with your crawl space is important as well.
Homeowners in areas like Newton and Marion, NC, are no stranger to crawl space mold, flooding, wood rot and several other problems.
Regardless of the reason, the agreed-upon solution is encapsulation.
Crawl space encapsulation looks different depending on your home's needs, but it typically involves a vapor barrier, drainage system, sump pump, and dehumidifier. The goal is to seal the space from the outside air, making it part of the home and circulating clean fresh air throughout.
Choosing the right company to repair and safeguard your crawl space is important. Dry Pro Foundation and Crawl Space Specialists, a Groundworks Company, has more than 20 years of experience doing just that.
Using customizable and warrantied solutions like high-quality vapor barriers, drainage systems, and energy-efficient dehumidifiers, Dry Pro controls the environment below your home and transforms it into clean, dry, usable space.
Our team of brands covers the entire state of North Carolina and can permanently solve your crawl space problems regardless of where you live in the state. Follow the prompts below to be matched with an expert in your area.
Not in the Charlotte metro area? Find the same great service throughout the Carolinas:
Service Areas
Northern North Carolina ·
Raleigh/Durham/Chapel Hill · Wilmington ·
Winston-Salem/Greensboro