You need to close off your home. Not figuratively to block out friends and family members, but physically underneath your house to protect its safety and longevity.
A lot of homes in Charlotte, Hickory, and elsewhere in North Carolina were built with a crawl space to stay elevated above the ground. But the flawed design of adding vents has created problems like mold and wood rot that attack the structure and create an unhealthy living environment.
A vapor barrier is important to install in your crawl space for locking out moisture, but it is only one piece of the puzzle.
In this article, we'll cover everything you need to know about vapor barriers, how they factor into crawl space encapsulation, and how our trusted team at Dry Pro Foundation and Crawlspace Specialists can help you.
---
What Is a Vapor Barrier?
A vapor barrier is a plastic sheet placed in the crawl space to separate the enclosed environment from the earth. It covers the floor, walls, and any support columns to help prevent the intrusion of moisture and vapor in the crawl space.
When a vapor barrier is installed along with other measures like waterproofing, insulation, and dehumidifiers, this comprehensive crawl space encapsulation system changes the environment under your house for the better.
Furthermore, it makes the crawl space less appealing to mold, wood rot, and pests that would otherwise thrive in a wet and humid area.
The Benefits of Vapor Barriers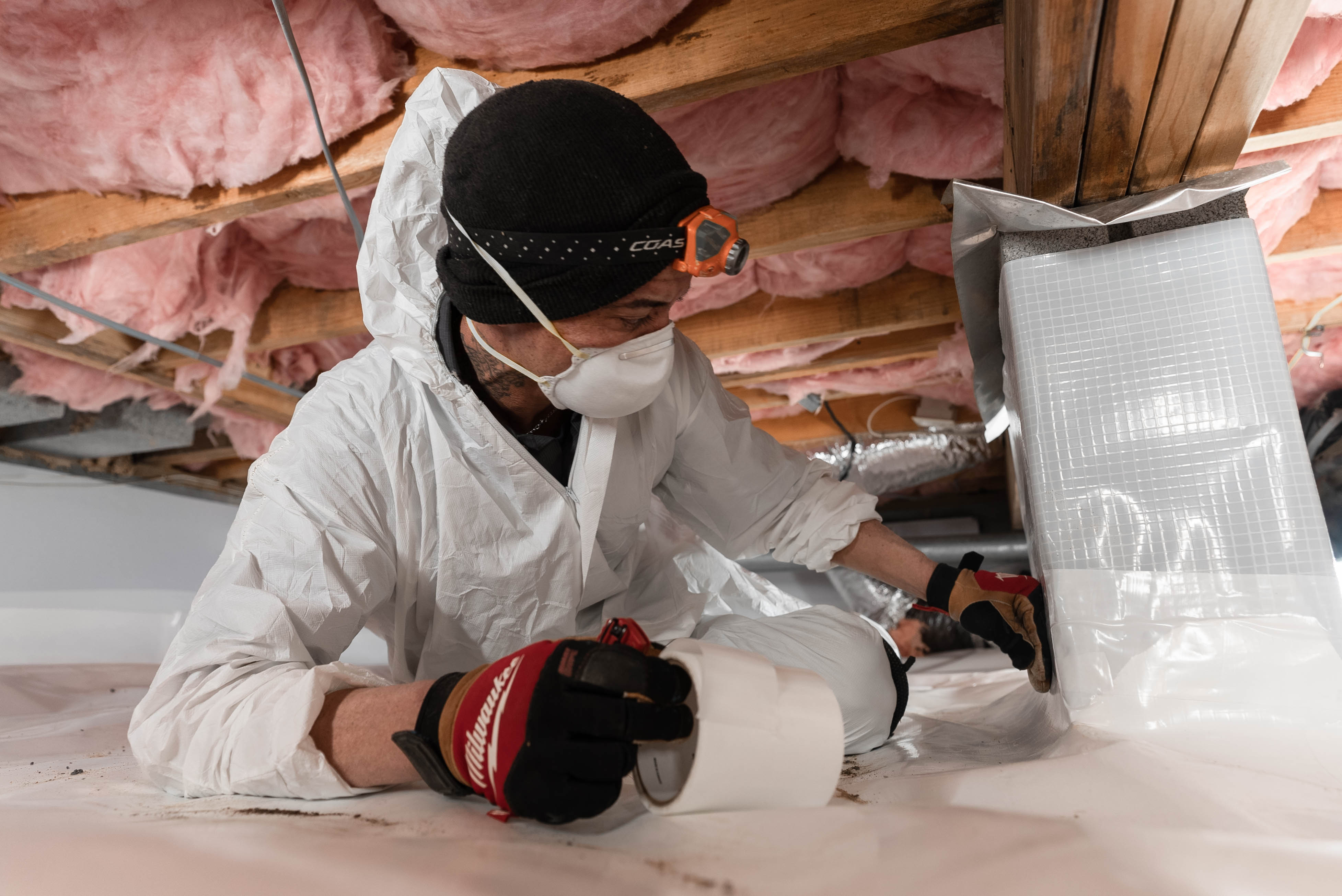 Along with helping prevent excess crawl space moisture, a vapor barrier comes with a host of other advantages.
At DryPro, we've tested a number of vapor barriers over the years, and we only install one that we trust, and that homeowners can rely on for the best protection. Here are just some of the benefits of our CrawlSeal™ crawl space vapor barrier:
True 20-mil thick polyethylene vapor barrier with polyester cord reinforcement
Antimicrobial treatment resists mold and mildew
Class A – Class 1 fire rated
Secured to floor and walls with special adhesive to ensure the liner stays put
Long-term warranty against rips and tears
Vapor Barrier Care
Many homeowners think of repairs like crawl space encapsulation as a "one and done" project. But it's important to make sure your vapor barrier and other elements remain intact.
Is Maintenance Required?
Yes, you'll need to make sure your vapor barrier is always in good condition, otherwise it won't accomplish its intended purpose.
When you have DryPro install the CrawlSeal™ vapor barrier and other crawl space repairs, you can take advantage of our annual maintenance programs.
Our service technicians will check the vapor barrier for any rips or tears and test other solutions like sump pumps and drainage. This ensures what we installed continues to function in protecting your crawl space and home.
When to Replace the Vapor Barrier
Some contractors recommend replacing your vapor barrier every 10-20 years and advertise their products as such.
DryPro, however, has tested a number of vapor barriers over the years to gauge their longevity. That is why we only offer a thick and durable vapor barrier you don't have to worry about replacing.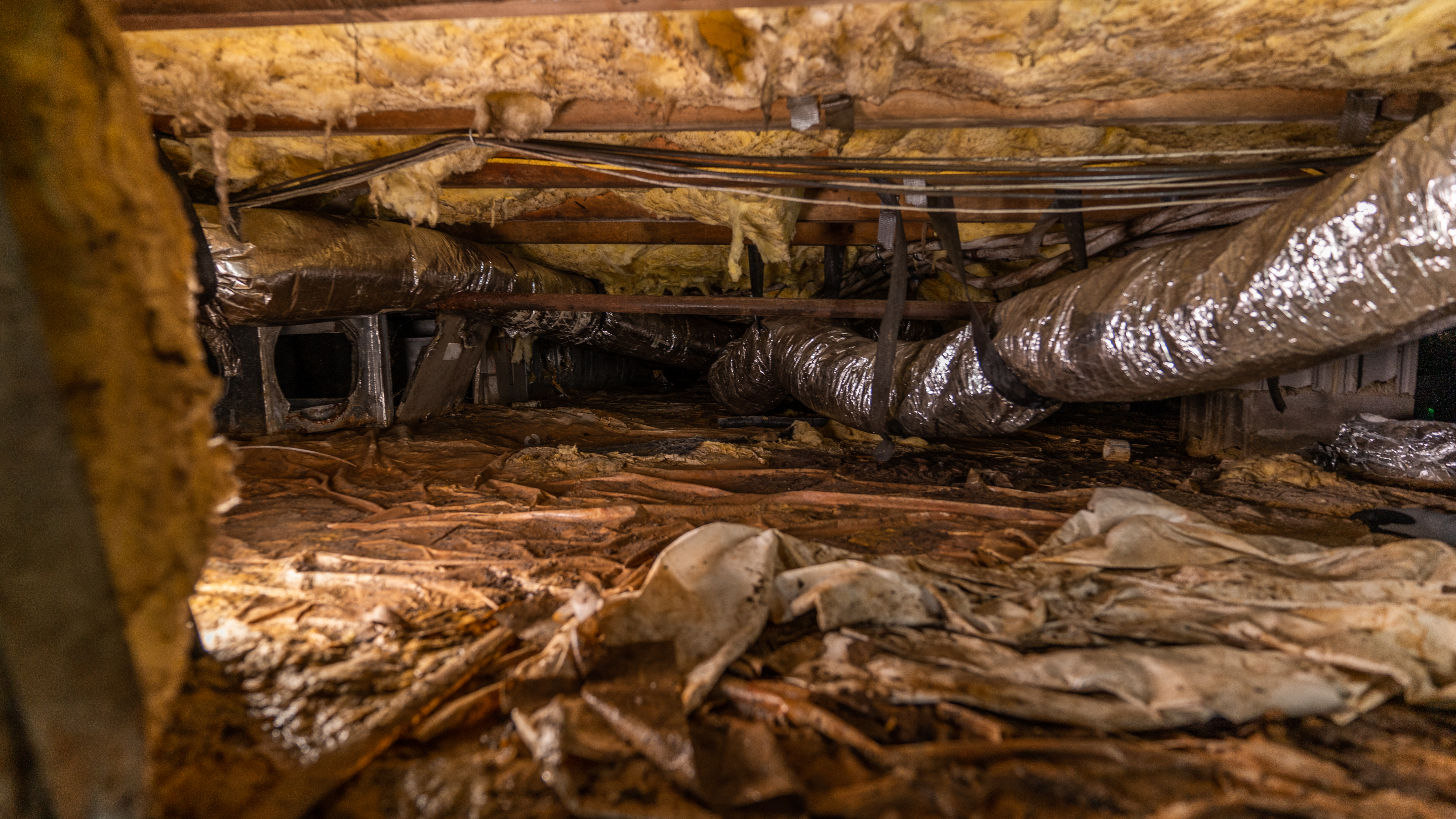 Types of Vapor Barriers
The International Residential Code requires vapor retarders in under-floor spaces like crawl spaces. For many years, the industry standard has been to install 6-mil or 12-mil crawl space liners, but some specialists like Dry Pro have rallied against that and demanded better for homeowners.
Here is a breakdown of common vapor barrier thicknesses:
*Note: Vapor barriers are measured in "mils." One mil equals one one-thousandth of an inch.
6-Mil – The thinnest vapor barrier available, a 6-mil liner rips and tears easily. It is often used as a bare minimum to meet code requirement and attempt to save money. This thickness is equivalent to two plastic grocery bags.
10-Mil – While not as common, 10-mil is another option. It is only slightly thicker than the 6-mil barrier and still does not do much in the way of preventing water intrusion. This thickness is similar to that of postcards.
12-Mil – This is the most common vapor barrier thickness used by many contractors and offered at big box stores. Even though it is twice as thick as the 6-mil option, it still easily rips and develops holes.
15-Mil – A 15-mil barrier, while a bit thicker and superior to the thinner liners.
20-Mil – Thicker vapor barriers exist, but 20-mil barriers are often the thickest barriers available for residential usage. These barriers completely enclose the crawl space to seal off your home from the ground, and they resist rips and tears.
Vapor Barrier FAQs
Vapor barrier prices can vary, but it generally costs 75 cents to $1.25 per square foot to install a 6-mil or 10-mil vapor barrier.
Dry Pro uses a thicker, more reliable material, and from experience, we know that a vapor barrier is part of a comprehensive crawl space encapsulation system. We do not just offer a vapor barrier on its own because it will not be enough to fix the problem with crawl space moisture.
For an accurate project cost, contact us today to schedule a free inspection.
There is no reason not to use a vapor barrier in your crawl space.
Some people think they're in the clear if they have a concrete crawl space floor rather than a dirt one. However, moisture can still penetrate porous concrete and intrude through open vents.
A vapor barrier coupled with vent covers and other encapsulation solutions will keep your crawl space dry, healthy, and functional.
It's easy to confuse the installation of a vapor barrier with crawl space encapsulation.
Fully encapsulating a crawl space involves several solutions including drains, sump pumps, dehumidifiers, insulation, and vent covers along with a vapor barrier. While the vapor barrier is the heart of the encapsulation system, it is only one part of it.
Each encapsulation solution is crucial and provides its own benefits, but they are stronger when working together to keep the crawl space dry, safe, and healthy.
---
How Professionals Install a Vapor Barrier
A typical encapsulation includes waterproofing with internal drains and a sump pump, placing thermal insulation on the walls, installing the vapor barrier, adding a dehumidifier, and closing vents and doors.
Here's how we install a vapor barrier:
The crawl space is measured, and the liner is cut to fit the area.
Piers and vertical support posts are wrapped with the liner.
The liner is placed on the floor and taped down.
The liner is placed on the walls and taped.
Hiring a Crawl Space Specialist to Install a Vapor Barrier
You can't just lay any old liner in the crawl space and call it a day. Crawl space encapsulation, including the installation of a vapor barrier, has a lot of moving pieces.
That's why it's best to rely on the experts. Here are the benefits of doing so:
Many years of training and installation experience
Fast and effective installation
Permanent crawl space repair and encapsulation solutions
Warranties on installed products
Service and maintenance plans ensure longevity of installed solutions
Our services and solutions are award-winning and nationally recognized, and our customer care is second to none. Here are the downsides to DIY installation and repairs from other contractors:
Many years of training and installation experience
Fast and effective installation
Permanent crawl space repair and encapsulation solutions
Warranties on installed products
Service and maintenance plans ensure longevity of installed solutions
Contact Dry Pro for a Free Vapor Barrier Installation Estimate
North Carolina has a humid subtropical climate with particularly muggy summer months and plenty of year-round rain. It's important to keep this humidity and other moisture out of your crawl space so dangers like mold and wood rot won't develop and compromise your home and family.
The best way to do that is with professional crawl space encapsulation, which involves the installation of a vapor barrier. Don't trust just any vapor barrier for your home's protection. You need something that will stand the test of time.
Dry Pro has more than 20 years of experience and installs only the best vapor barrier proven to curb moisture and humidity in Charlotte and Hickory crawl spaces. To learn more about how your crawl space will benefit from this installation, contact our team today to book a free inspection and repair estimate.
Not in the Charlotte metro area? Find the same great service throughout the Carolinas:
Service Areas
Northern North Carolina ·
Raleigh/Durham/Chapel Hill · Wilmington ·
Winston-Salem/Greensboro