When you walk across the floor in your Charlotte or Hickory home, the floor should feel sturdy and supported. It shouldn't feel like you're wearing Moon Shoes from the 1990s or like you're sinking into the floor like Tom Hanks did in "The Money Pit."
Sagging, uneven, bouncy floors are more than just a minor nuisance: they are a symptom of much deeper problems in your home, or rather below your home in the crawl space.
In this article, you'll learn more about this crawl space problem, how it affects your North Carolina home, and how the local experts at Dry Pro Foundation and Crawlspace Specialists can help.
---
3 Causes of Uneven Floors
Mold – If your home has a vented crawl space, humid outside air and runoff from precipitation can easily get inside your crawl space. This combination of muggy air and the presence of water allows mold to grow on wooden supports. Mold eats away at wood, weakening its structural integrity, and leads to sagging and uneven floors.
Wood Rot – Wood rot develops in a similar way. Dry rot, particularly, is a fungal infection of the wood that microscopically eats away the wood in the crawl space. This impacts its strength and ability to support the above floors.
Over Spanned Floor Joists – While moisture is a huge contributor to sagging, uneven floors, construction mistakes and shifting over time can also happen. Floor joists are meant to span a specific distance. If the builders miscalculated the measurements and weight of the structure, certain areas must carry more weight than others, causing joists to over span, rub against support beams, break, or shift over time and result in uneven floors.
Risks of Sagging Floors
Structural Damage – If problems like mold, wood rot, and overspanned joists continue long enough, the structural integrity of your home will be severely compromised. Other problems you'll start to notice throughout your house include sticking windows and doors, drywall cracks, and nail pops. The floor could eventually give way and lead to other problems.
Safety/Tripping Hazard – Walking over a smooth, even surface is important, especially for those with mobility issues. Uneven floors that are sagging and appear to be bouncy present safety hazards. Anyone walking over them can trip, fall, and injure themselves.
Decreased Home Value – When you decide to sell your house, it's important to make sure everything is in tip-top shape, including the condition of your floors. Buyers are not going to want to purchase a house with significant problems like sagging floors, and this can lower the value of your property.
Sagging Floors FAQs
Sagging floors are a common problem with old houses (and new houses, too)
If your home is older, it's had more time to succumb to settling and moisture damage that result in sagging floors. Foundations and the soil they were built upon can shift and settle with time, causing the support system to also shift and become over-spanned.
Also, open crawl space vents allow North Carolina's year-round humid air and precipitation to flow into the crawl space and lead to moisture problems like mold and wood rot.
While you can sell a house with an uneven floor, you will have to disclose that information and knowledge about other damage in the State of North Carolina Residential Property and Owners' Association Disclosure Statement.
Before a purchase agreement is finalized, North Carolina law compels sellers to disclose any known flaws in their property. In addition to preventing surprises for the purchasers, this establishes clear expectations and shields you, the seller, from legal action.
So, when selling your home, be sure to fill out this form as thoroughly as possible and note damage such as foundation defects and crawl space water or moisture issues.
Floor joists are horizontal supports used to frame open spaces in your home.
Joists work with the floor structure to strengthen the subfloor shearing, which makes it possible for it to act as a horizontal diaphragm. Typically, the beams are put in place after the crawl space or basement has been constructed.
In order to hold up the floor above, joists must span between load-bearing walls or beams, which transfer their weight to vertical elements, and they must be parallel and evenly spaced apart.
---
Why You Shouldn't Fix Sagging Floors Yourself
It may be tempting to want to try your hand at fixing the problem with sagging floors yourself. However, this is a repair you should not take lightly, especially if you want a permanent fix.
There are two big reasons why you shouldn't try to fix sagging floors on your own:
Poor solutions only cause more problems.
Our team at Dry Pro are typically called out to Charlotte homes with sagging floors because homeowners or contractors installed a temporary fix that didn't work. We've seen it all when it comes to DIY repairs, from car jacks and bottle jacks to concrete blocks and even 4×4 posts.
These and other DIY repairs sold at big-box stores are only temporary solutions at best. They would need to be continuously re-installed over time, and do not necessarily meet building code.
For example, if wooden posts directly contact the dirt floor, this is a welcome sign for termites to eat away at your home's support system.
So, that's why we say that poor solutions to sagging floors only cause more problems (and cost you more money) in the long run.
There's also the issue of safety. Most crawl spaces in Charlotte are 24-30 inches high and often contain essentials like plumbing pipes and HVAC ductwork. Without the right experience, you could get stuck in this small area or accidentally cause damage to critical pieces of your home.
Don't risk it. It's not worth it.
Easy Fix to Sagging Floors in NC & SC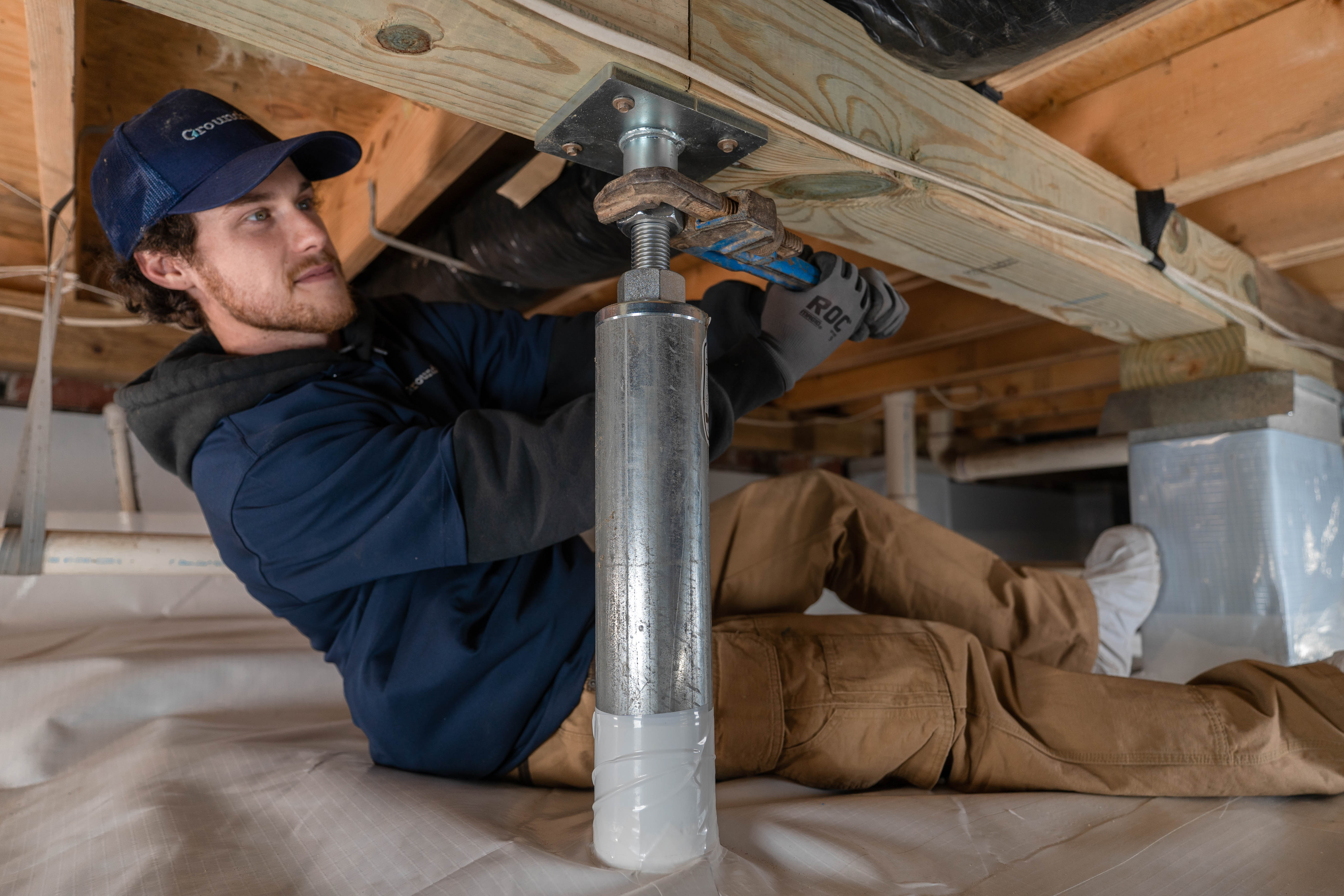 You need the right solutions installed by highly trained professionals to permanently fix your sagging floors. That's exactly what crawl space specialists (like Dry Pro!) offer.
If you book a free inspection with one of our experts, they will complete a thorough evaluation of your North Carolina home and crawl space. If they determine that the floor joists are sagging or the existing supports aren't properly bracing your home, they may recommend the installation of our crawl space support jacks.
Each durable jack can be cut and customized to the specific height of your crawl space. They work to reinforce and help lift sagging floors and floor joists, and can be adjusted by our team if any further crawl space settlement occurs.
Support jacks are also compatible with other permanent crawl space repair and encapsulation solutions that seal the crawl space and remove moisture that may have caused the floors to sag in the first place.
Wherever you get your crawl space solutions, make sure you get them from a highly trained team with proven knowledge about crawl space problems. Make sure they have hard-earned experience with preserving the health and safety of your home.
---
Thank you for reading this guide to sagging floors in North Carolina. We hope it's helped you diagnose your uneven floors and develop actionable steps to get them fixed.
Before you go, if we haven't covered your specific question, below are a few more related questions about sagging floors that our customers often ask us.
And if you have other questions, contact us today and we'll be happy to answer.
Not in the Charlotte metro area? Find the same great service throughout the Carolinas:
Service Areas
Northern North Carolina ·
Raleigh/Durham/Chapel Hill · Wilmington ·
Winston-Salem/Greensboro